P'yat, RDA take up work of constructing footpath, drainage and erecting fancy electricity poles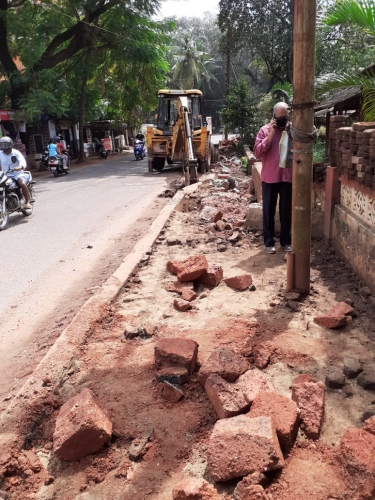 MAPUSA
The Candolim panchayat and the department of Rural Development Agency have taken up work of constructing almost 3 km long footpath, drainage and alignment of electricity poles on the main coastal road in Candolim.
The panchayat has kick-started the work from Candolim Ximer up to football ground and is expected to complete the job within 30 days in time for the tourism season.
"Earlier, there was only 20 cm wide footpath along this road. We are constructing a standard 2-metre wide footpath so that Indian and foreign tourists and the locals can get ample of space to walk," said Ports Minister and local MLA, Michael Lobo.
He said several compound walls adjoining the road had to be broken to make way for the footpath.
"Many villagers have cooperated with us to get the work of footpath done for larger public good. I thank all the people of Candolim who have readily agreed to break their compound walls," he said.
The minister assured that all the compound walls that have been broken will be reconstructed by the panchayat.
The realignment of the electricity poles with erection of fancy electric poles will be taken up by the local panchayat.
Lobo said all efforts will be taken to complete the work in a month's time just when the tourism season is expected to kick-start in November.
He said a lot of hotels along the coastal belt have also contributed through the CSR activity to put the infrastructure in place in the coastal village.