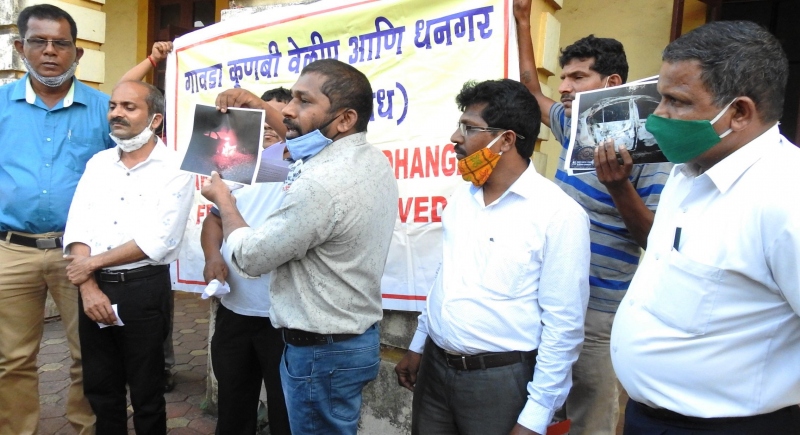 MARGAO
A number of ST organizations on Wednesday vowed to continue the ongoing agitation against the government till the land proposed for the IIT project is transferred in the name of the villagers of Melauli.
At a joint media briefing here on Wednesday, representatives of Gakuved Federation, Adivasi Sanghatana Quepem, the Scheduled Tribe Association, Sao Jose De Areal and Goenchya Kul Mundkarancho Avaaz demanded the Chief Minister Pramod Sawant give in writing or come out with a notification after taking a Cabinet decision that the proposed IIT project is scrapped from Melauli village.
They further demanded that the land under survey No 67/ 1 be transferred in the name of Melauli villagers and simultaneously delete the name of IIT and the Government of India from the occupants' column in Form I &XIV.
They demanded that the government drop the charges against all the Melauli villagers and other activists/citizens of Goa, who had extended support to the villagers and to reinstate the Anganwadi worker, Lata Gaonkar at the same place where she was transferred and also reinstate all those government employees, who were unnecessarily transferred to distant location from Sattari.
The representatives also demanded the termination of PI Sagar Ekoskar and initiate criminal proceedings against the police officer. They have also called for the suspension of other officers who have incited violence at Melauli.
They made it clear they do not trust the statement made by the Health Minister Vishwajit Rane requesting Chief Minister to scrap the project.
Gakuved Federation General Secretary Rupesh Velip said the Melauli villagers have been protesting against IIT project for the last nine months, but the Health Minister never visited the village to understand their sentiments.
Referring to the Health Minister's demand to scrap the IIT project, Rupesh said, "We firmly believe that this stand of Vishwajit Rane is nothing but eyewash. After A few months, once the people withdraw their protest, the Government may have a hidden agenda to go ahead with the proposed project at Melauli".
John Fernandes of Adivasi Sanghatana, Quepem, said that from 2007, the indigenous communities of Goa have been struggling to sort out land issues and are taking various awareness campaigns to strengthen the people's movement against land grabbing.
"In most of the cases despite being owners in possession of their land and houses, they are wrongly mentioned as encroachers, caretakers, tenants etc. If land-related documents and physical possession is verified, one can ascertain that these people are protecting their land from ages. This is a major problem in talukas such as Pernem, Bicholim, Sattari, Dharbandora, Sanguem, Quepem etc," he added.