The Covid pandemic has shut down schools and moved education online. However, not all students and schools are equipped with the necessary infrastructure to execute such classes. But should this be a reason for kids to not get their education? In a rather interesting workaround, teachers of a little village school in Maharashtra decided to take classes on the streets and painted the walls of the village with the school curriculum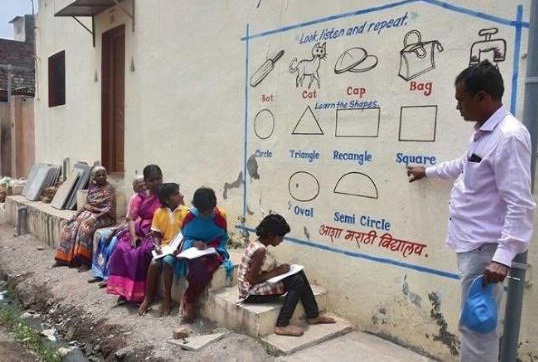 >>>>>>>>>>>>>>>>>>>>>>>>>>>>>>>>>>>>>>>>>>>>>>>>>
COVID-19 has surely affected the lives of many -- whether it's people who got infected with the novel coronavirus or the working class that has layoffs and salary cuts along with stressful never-ending work from home, or businesses where people had to scrap what they were initially doing and start all over again to make ends meet.
Amidst all this, it's kids and their education which has also gotten severely affected. And with schools going online, not all kids and schools are equipped with the tools for digital learning. Many kids studying in rural villages of the nation cannot afford a phone or a laptop for studies, let alone pay for data; nor do the schools and teachers in the villages have the necessary infrastructure to execute such classes.
However, teachers from Asha Marathi Vidyalaya in Solapur, Maharashtra decided that this cannot be a reason for kids to not get their education. In a rather interesting workaround -- they decided to take classes on the streets.
With 1,700 students from ages of 6-16, teachers, with the help of a local artistpainted murals related to the curriculum on walls across the village.
Ram Gaikwad, a teacher said, "Since most of the families lack resources to educate their kids digitally, we had to come up with an innovative method to keep children invested in education," Each day kids gather in small groups at different walls, either sitting or standing (whilst maintaining social distancing) and taking notes. These murals have drawings ranging from complicated trigonometry to languages in English as well as Marathi. Said 3-year-old YashwantAnjalakar, "When my mother sends me to buy milk, I walk through the village and look at the lessons on the walls."