Development comes at a price and at times, a pretty heavy one. rnAt least 200 coconut trees, some over 20 years old, on the eastern side of the Guirim-Panaji National Highway 17 are on the chopping block to make way for widening of the highway.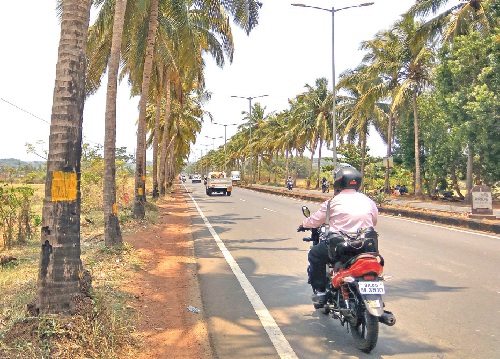 The widening of the highway is part of the four-six lane project from Patradevi in North to Pollem in South Goa.
The forest department has initiated the process of enumerating the coconut trees along the 2-km national highway between Guirim and Porvorim.
The coconut trees on the left side of the highway while travelling from Mapusa to Panaji have been marked in yellow paint.
There are almost 400 coconut trees on both sides of the highway, 200 each on either side and most of them are 15 to 20 years old.
"Coconut trees on one side of the highway are expected to go for road-widening work. At the moment, we are in the process of enumerating the trees," said Range Forest Officer, Rajendra Faterpekar.
Authorities in charge of the national highway informed that for the moment, coconut trees along the eastern side will be cut, but if required, trees along the western side may also face similar action.
"We are not going to cut all the coconut trees. In fact, most coconut trees which are in good condition will be shifted and replanted," said A K Sadanand, National Highways Assistant
200 coconut trees, some over 20 years old, on the eastern side of the Guirim-Panaji highway will be cut, while those on the western side may also face a similar fate
Almost 400 coconut trees stand tall on both sides of the road
National Highways officials claim not all trees will be cut, while most will be replanted
On the other hand, PWD says nothing will be cut, and service roads will be built outside the coconut trees