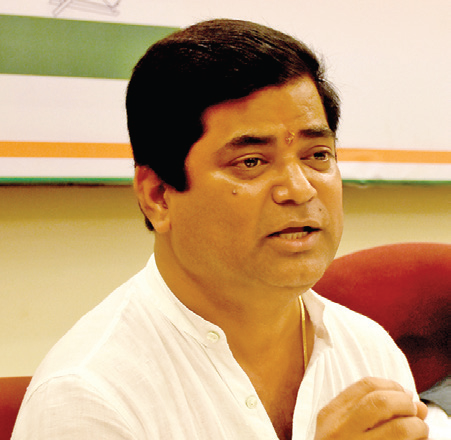 MAPUSA
Leader of Opposition and Congress MLA Chandrakant Babu Kavlekar on Tuesday slammed the ruling BJP-led coalition government for adopting time-wasting tactics in the ongoing curtailed assembly session and accused it of not taking maximum number of questions during the Question Hour.
"Most of the ministers tried to waste time by beating around the bush and wasting precious time of the House. Many important and crucial questions tabled by the Opposition MLAs could not be taken up," Kavlekar said.
The Opposition leader was addressing the media in his office in the Assembly flanked by Tivim MLA Nilkant Halarnkar, Taleigao MLA Jennifer Monserrate and Curtorim MLA Reginaldo Lourenco.
He said Congress MLA from Santa Cruz Antonio Fernandes had tabled an important question on need of NRI affairs department in the State concerning so many Goans work on cruise ships and another query on radio-based taxi service.
"Other Congress MLAs had tabled questions on Mhadei issue and several other issues none of which were taken up due to the time wasting tactics of the ruling dispensation," he said.
He said ministers failed to give proper replies and tried to divert attention from the main query.
"If problems faced by the people of Goa are to be resolved the opposition should be given adequate time to raise their questions in
the House," the Opposition leader said.
Curtorim MLA Reginaldo Lourenco condemned the attitude of the government for restraining a journalist from covering the assembly session.
"The government of the day should be magnanimous in its approach instead of
trying to stifle the press," Reginaldo said.
He said in the past the media wrote so much against the Congress government particularly against the former chief minister and Margao MLA Digambar Kamat but not once the Congress-led government was vindictive of the press.
It may be recalled that Harish Volvoikar, a journalist running breaking news online service, was barred from covering the assembly session by the Speaker on Monday.
He was apparently restrained for wrong coverage on health updates of the Chief Minister Manohar Parrikar.