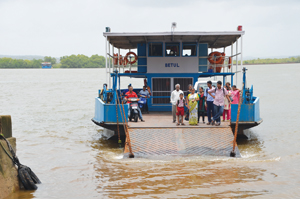 A Facebook posting ona Goan Group Page says it all. Two pictures - one showing vast expanse of greenfields on July 5 2008 and another with a broken plaque on July 8 2008. Thecaption says Diwarkars do not want a bridge. The broken plaque is of theDiwar-Ribandar Bridge. The residents will have to use the ferry service for awhile longer.
The proposed twinbridges- linking the mainland to Divar and Chorao- costing Rs. 570 crores isnow being opposed because the residents fear land speculators will deprivelocals of access to their own land. Proposals to link Chorao to Ribandar orPomburpa and Divar to Old Goa have been floated several times in the past, buthave been held up due to various factors, including technicalsnags.
Mario O Pinto,formersarpanch of Goltim Navelim said "It may be recalled initially villagers ofDivar or Chorao had opposed the bridge fearing a threat from the builder lobby.A bridge is the need of the hour as we have experienced great inconvenience fordecades."

While another localVinayak Nagvekar said "I lived in Divar till year 2003 before moving to Panjim.Divar will always stay a backward as long as the mentality of the people ofDivar do not improve .They opposed the construction of the bridge which wouldhave linked them to the mainland bringing prosperity to the villages. We cometo Panjim for almost everything like children's education, employment,shopping, medical care etc. We cannot move freely because of a lack of roadsduring the night and it always causes great inconvenience in case of an emergency"
But not everybody tows the development line. StephenFernandes from Diwar emphasizes "Only a drunk will like this bridge, we don'tneed it. Please do not haul a bridge over and us and spoil our island. Even forSunny Amonkar who moved from Divar to Panjim, the warning is the same. "Ifthe bridge happens then Divar will be converted to Panjim City". For quite afew of the islanders, the bridge would mean an end to the quaint and laid backGoan lifestyle.

"The PWD is presentlyin the process of handing over to papers to the Goa State InfrastructureDevelopment Corporation (GSIDC) to commence work" says, Dr. Pramod Sawant,Vice–Chairman of Goa State Infrastructure Development Corporation. According tosources the PWD had not appointed any consultants for a feasibility report.