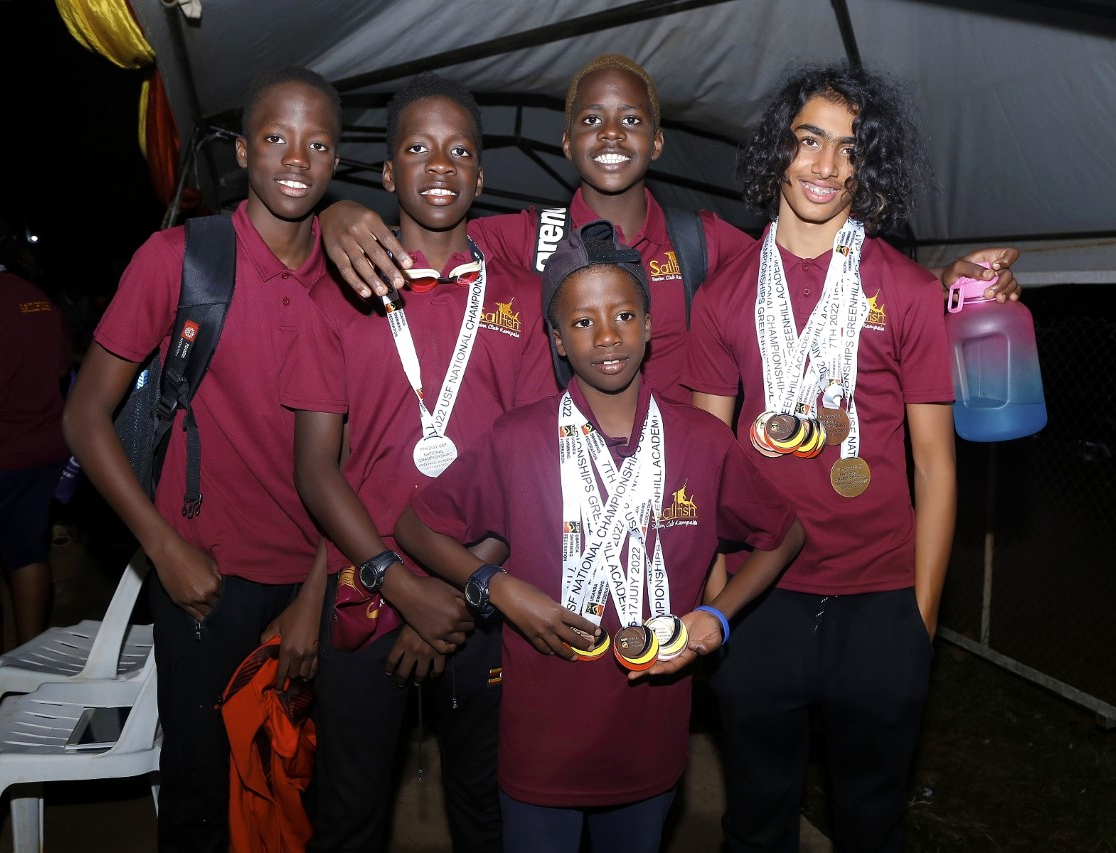 PANAJI
To have won 10 medals in swimming within a year is an achievement in itself, but what is remarkable about Aman Ladak is that the 13-year-old Goan took up competitive swimming practice by joining the Sailfish Swimming Club in Kampala-Uganda only in September 2021.Hailing from Caranzalem, Aman is a student of Kampala International School, Uganda (KISU) and resides in Kampala.Speaking to The Goan, Akbar Ladak said his son, Aman, took up competitive swimming practice by joining the Sailfish swimming Club in Kampala around September 2021."This was one way for him to start getting back to active outdoor sports post the lockdown. He was then chosen to participate in the 6th Uganda Swimming Federation Championship held in Kampala-Uganda between November 26-28, 2021 where he won 2 medals, a silver and a bronze for relay races.""He then continued practising diligently during the year and with the USF calendar getting back to its routine he was chosen to participate in the 7th Uganda Swimming Federation held between July 15-17," said Ladak.Aman's hard work along with the efforts of the coach Joseph Kabogonza took him to achieving 8 medals this year. His medal tally was: 2 gold medals in 4x50 mts Freestyle Relay Boys and 4x50 mts Medley Relay Boys, 1 silver medal in 100mts Breaststroke Boys and 5 bronze medals in 100 mts Freestyle Boys, 100m Backstroke Boys, 4x50 mts Freestyle Relay Mixed, 50 mts Breaststroke and 4x 50 mts Freestyle relay mixed.To a query on Aman's interest in sports, Ladak said: "Aman has always been a sporty child. We have seen him grow up through his primary school years being part of the school football and basketball teams to developing a liking for golf in recent years.""Swimming has always been Aman's passion and he has worked hard to get better at it. He has balanced both academics and sport quite well."Asked if Aman faced any challenges as a Goan boy to compete in Uganda, Ladak replied in the negative."However, most countries do not allow non-citizens to represent them at international competitions like CANA so there is a glass ceiling of sorts," said Ladak.Aman is into multiple sports and besides swimming, enjoys golf, high jump, badminton and football.At present, Aman has a regular schedule consisting of 2 hours of swim training 3 days a week and a trainer who helps him with gym training twice a week."Even though swimming uses all muscles in the body, some form of cross-training like dryland exercises are especially useful for building aerobic capacity, improving overall fitness levels and increasing flexibility," explains Ladak.Aman's role model is Adam Peaty and his ambition is to achieve Adam Peaty's 'Project 56'.When asked if Aman would like to eventually come back to Goa and represent Goa/India or if he would like to move abroad for better training and competition, Ladak said: "As of now, Aman enjoys living and training in East Africa. Goa has always been home for him and always will be."
LADAK'S ADVICE TO OTHER PARENTS:
Parents should let children try their hand at any sport they are interested in.

Our role as parents is to be there for our children and motivate them but most importantly to have fun and enjoy the sport in the right spirit.

Provide the opportunity of many choices and support his/her choice even if it is not yours.

Teach your child to respect his/her coach as it is vital to the child's progress and performance that he or she listens to and trusts the coach's advice and instructions.

Be willing to let your child make his/her own mistakes and learn from them. When your child makes a mistake, ask what they think they could have done differently, what they learned from the experience, and if they would like any feedback (not criticism or blame) from you.

Be interested and supportive, light and playful, understanding and open-hearted.

Be accepting and tolerant of your child's learning process and her/his physical abilities.

Acknowledge and enjoy your child's participation and successes…. even the small ones.