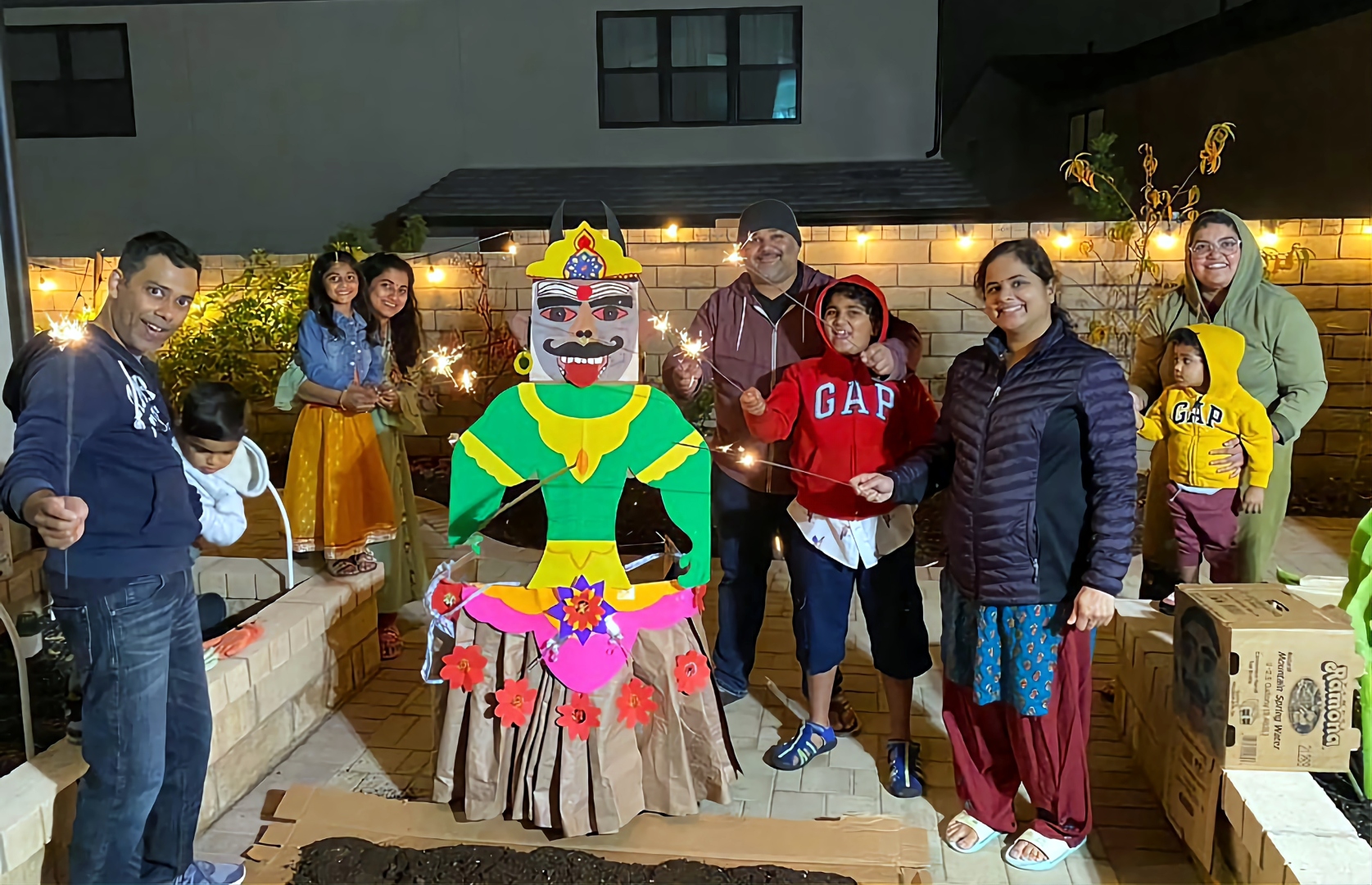 Born and brought up in Goa has really made me realise how beautifully each festival is celebrated in my home state. I try to celebrate a mini-version of Diwali with Goan traditions here at Bay Area in San Jose, California-USA. In this multicultural society, we try to find creative ways to bring awareness to our son, Ayansh, about our culture and involving him as much as possible in traditional celebrations.
PREPARATIONS
Our family prepares for Diwali soon after Halloween. In Goa, Diwali is a culturally rich celebration with unique traditions different from other regions in India. Although this is a Hindu festival, all religions unite to celebrate Diwali.
Diwali in Goa is spread over five days: 1. Dhanatrayodashi, 2. Narak Chaturdashi, 3. Laxmi Puja, 4. Bhaubij and 5. Balipratipada (Padvo). In the US, we only celebrate the first four days.
The day before Diwali is 'Narak Chaturdashi' and in Goa, the 'Narkasur Vadh' is a unique and vibrant tradition. The festival is named after the demon Narkasur, who was defeated by Lord Krishna's wife Satyabhama, signifying victory of good over evil.
Giant Narkasur effigies are made in Goa using natural materials like bamboo, paper, and sticky rice glue called 'Khal'. Here in the US, we make a small paper version of Narkasur and my son takes interest in this process.
Most shopping and preparations are during the weekend and all Indian stores are full of Diwali sweets and decorative items. It feels like Diwali season, thanks to the big Indian population in Silicon Valley. Hanging lights, Kandils, purchases like Rangoli, firecrackers and preparing oil Diyas take place on Saturdays and Sundays prior to Diwali week.
In Goa, tying a garland of marigold flowers and Karit (a bitter fruit looking like melon) to bathing buckets is considered symbolic and a traditional practice in some households, believed to bring positivity and good fortune for the festive Diwali day. Here, it is the marigold season too, making it a perfect addition for Diwali.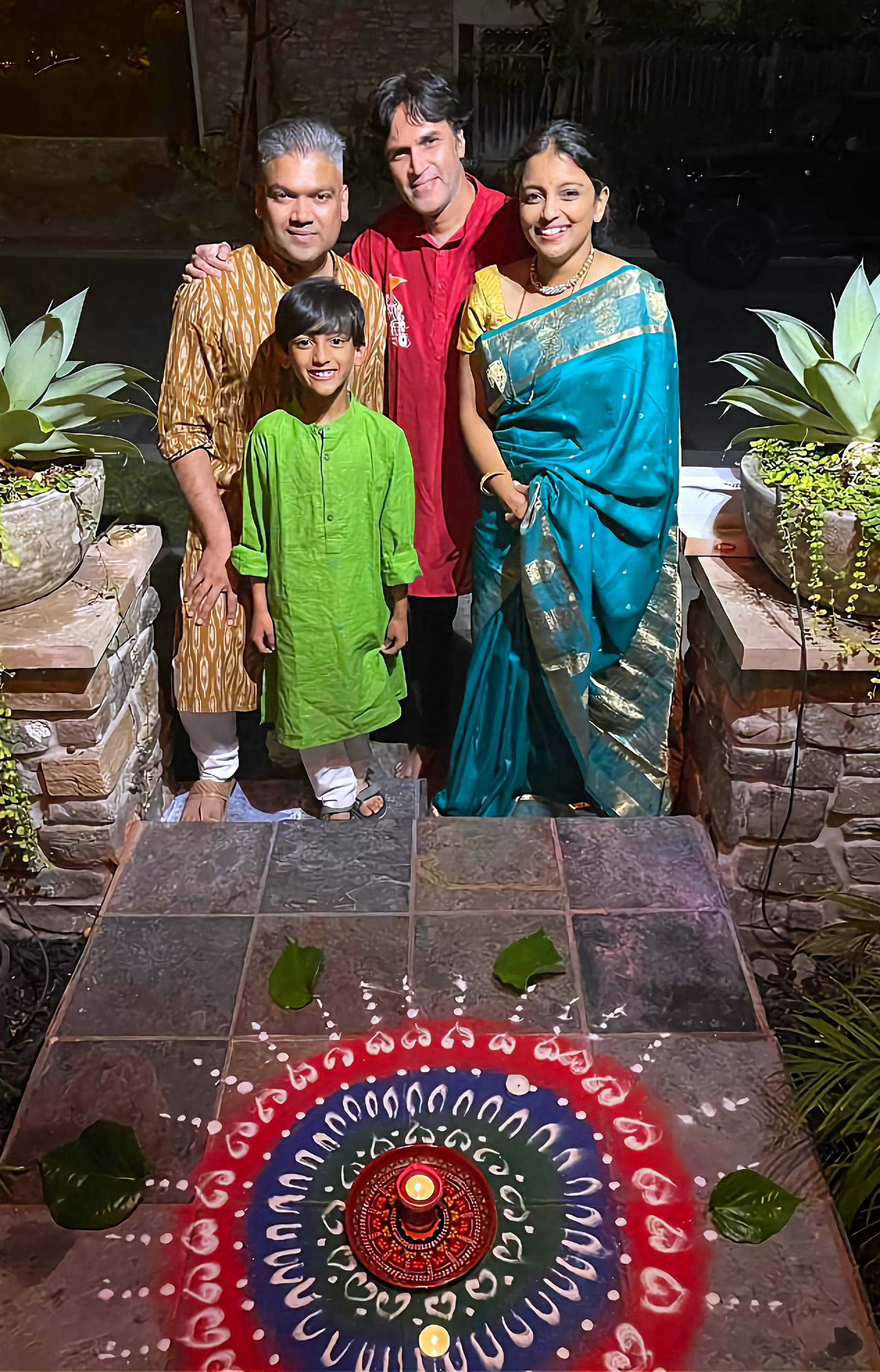 Arti Ramnathkar and her family celebrating Diwali at Bay Area in San Jose, California.

In Goa, there are competitions for the best and most creative Narkasur effigies, which are paraded in a procession, accompanied by dance and music. Here in the US, we play Narkasur music on YouTube, and make our little Narkasur dance. We end up burning it and immediately pouring water on the ashes to avoid any accidents.
Setting this demon ablaze commences the beginning of Diwali. The front porch is washed and beautiful colourful Rangoli designs are made to welcome the big day. Changing Rangoli for five days has been my favourite part since childhood.
Just like in Goa, I continue to light candles and Diyas. Bay Area has a good Indian population to see the wonderful lights.
CELEBRATIONS
On Diwali morning, it is customary to use a beautifully adorned bath bucket for an auspicious oil massage bath. The presence of marigold flowers signifies purity, prosperity, and the beginning of the festival with positive vibes. The scented powder oil called 'Uthane' (mix of scented powder from ancient recipes for good skin) is a traditional practice. This bath is considered auspicious and symbolic of cleansing oneself.
The tradition of making men in the family sit on a path (traditional wood floor bench) and applying scented oil on them is something we have continued here as well.
After bath, wearing new/clean clothes on Diwali is almost a mandate. We wear new clothes to school and work on Diwali day. My husband, Abhijeet Walke, and I take a day off on Diwali day, if it doesn't fall on the weekend. Calling families back home and wishing them is a big part of this morning.
Most schools in California celebrate Diwali as a "Festival of Lights" a day prior to actual Diwali day. Kids get to share stories on how they celebrate this festival at home.
DIWALI MEAL
The key element of the Goan Diwali meal is Fov (Phova or Poha). Making five types of Poha during Diwali along with 'Chanyachi Usal' (white peas dry preparation) and sour-sweet dish made of hog plums called 'Amadyachi Karam' is integral to the Goan celebration. They are prepared without onion, garlic or ginger.
Most Goans prepare milk-Poha, yogurt-Poha, potato-Poha, jaggery-Poha and coconut milk-Poha. Since my husband is from Maharashtra, I also make some snacks in advance. Meals are served on banana leaves while family members stand in line for 'Ovalni', a blessing/greeting with lit lamps. Gifts/cash are given to those performing the Ovalni.
EVENING AT DIWALI
The Laxmi Puja holds immense significance as it's a day dedicated to seeking blessings from Goddess Lakshmi, the deity associated with wealth, prosperity, and good fortune. The puja is performed usually after sunset, as it's believed to be an auspicious time to invoke the blessings of Goddess Lakshmi.
Indians and non-Indians get together on the streets after the Puja to light firecrackers and celebrate this festival together. Friends and families wish each other and distribute sweets and Prasad. This is the most enjoyed and awaited part for all kids.
This is how we Goans celebrate Diwali here in USA.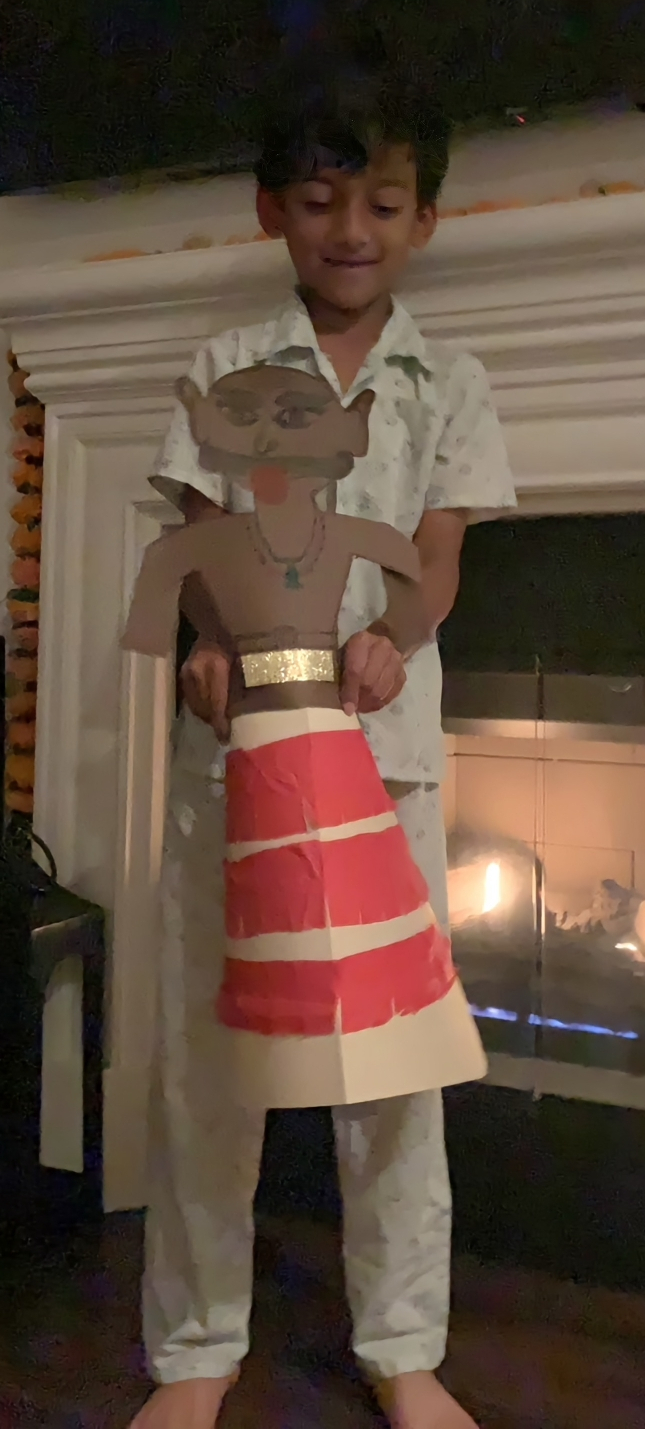 Arti Ramnathkar's son Ayansh Walke along with his Narkasur at their home in Bay Area, San Jose, California.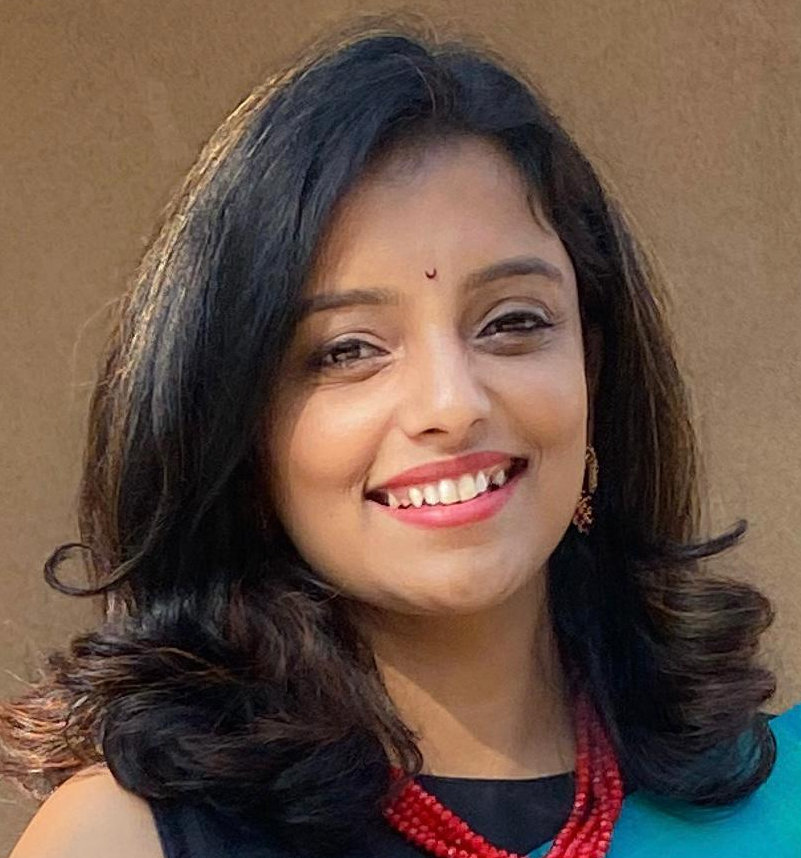 The writer was born and raised in Ramnathi-Ponda and presently settled in California USA since 2009, where she runs a successful home staging business.