Says needs of villages have been studied; focus on infra & individual human development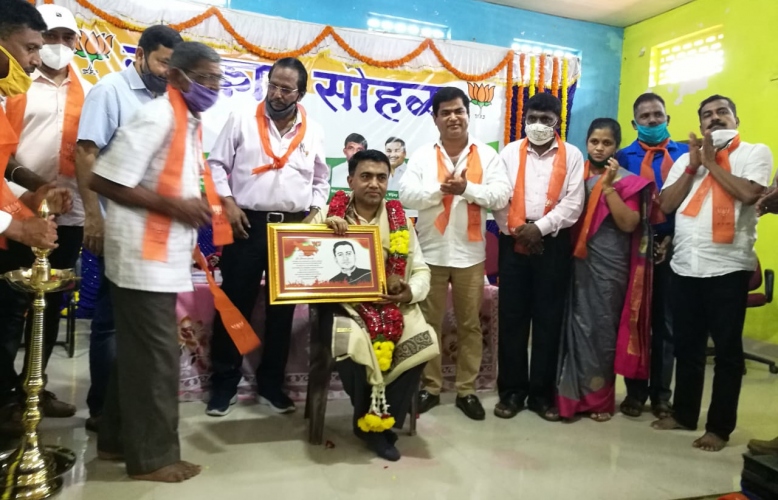 CANACONA
Reiterating that the State government is committed to make Goa self-sufficient and not be dependent on neighbouring states for basic needs, Chief Minister Pramod Sawant said the needs of every village have been studied while infrastructure and individual human development have also been focussed.
Sawant was addressing a gathering after he and Deputy Chief Minister Chandrakant Kavlekar were felicitated by the BJP Canacona Block at Sristhal on Friday.
Deputy Speaker and Canacona MLA Isidore Fernandes, Chairperson of Commission for ST and SC Goa Ramesh Tawadkar, Chairperson of Cancona Municipal Council Nitu Dessai, Shristhal Sarpanch Ganesh Gaonkar, former MLA Vijay Pai Khot and others were also present on the occasion.
"My government is working for the upliftment of the underprivileged and to make everyone self-reliant. We have trained over 200 officers to undertake a survey every Saturday and Sunday, beginning from October 31, in each of the village panchayats."
"They will do a specific survey on human development needs and requirements, explore the possibilities, provide them skill trainings, etc," said Sawant.
Expressing his gratitude for the felicitation, the chief minister said it is not his felicitation but the respect for every citizen of the State who is supporting and cooperating with the government to work.
"Under Atmanirbhar Bharat Mission, 10% of the Union budget is given for the upliftment of every sector from industrialist to farmer. The government is working to make the State self-sufficient under Swayampurna Goa and not be dependent on neighbouring states for basic needs."
"The needs of every village of the State have been studied and administration is working to complete it. Apart from infrastructural development, individual human development irrespective of cast and creed has been focused," he said.
Deputy Chief Minister Chandrakant Kavlekar said all legislators should work hand in hand for the development of the State in all sectors and added that the government had worked tirelessly and achieved success during the ongoing pandemic.
Deputy Speaker Isidore Fernandes said the government had been working for the betterment of the State and its people without any differences.
"Many developmental works are taken up under the leadership of Chief Minister Pramod Sawant, with Canacona municipality and every village of Canacona constituency developing rapidly," said Fernandes.