Villagers urged to be present for demarcation on Monday; WRD Minister Filipe Neri also asked to come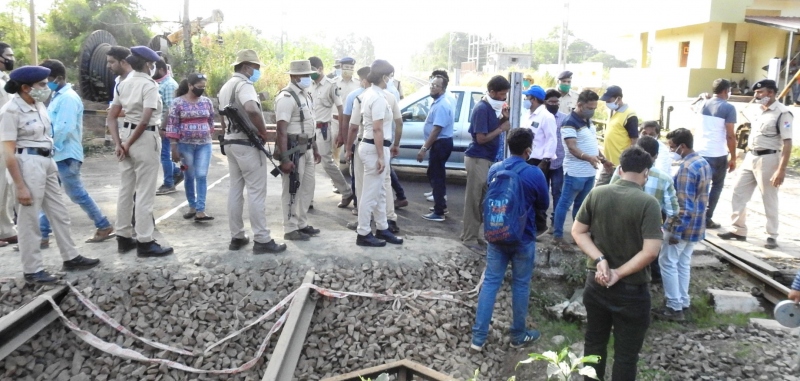 MARGAO
Tension rent the air near the Nessai railway gate on Friday noon after Railway officials resumed work near the gate with Railway Police Force (RPF) protection, a day after the villagers had stopped the work on Thursday.
As news of the railway work spread in Sao Jose de Areal, agitated villagers rushed to the spot to stop the work. Local panchayat members led by Sarpanch Miguel Pascoal Gomes, ex-sarpanch Vincy Mascarenhas and others also rushed to the spot and questioned the Railway officials when they had just a day ago assured not to resume work till they produce the land documents.
While the railway officials maintained that they have resumed work near the Nessai gate following instructions from Hubballi-based South Western Railway (SWR) officials, Water Resources Department Minister Filipe Neri Rodrigues later told Rail Vikas Nigam Ltd General Manager Projects Sahoo to halt the work till the area is properly demarcated by the surveyors.
Accordingly, the Railway and the Areal Panchayat have decided to carry out demarcation of the land in question on Monday morning by engaging their respective surveyors. The panchayat also told the Railway officials to come with the proper plan for the demarcation, even as the railways agreed to halt work at the site till Monday.
Maina-Curtorim police led by PI Shivram Vaingankar also rushed to the Nessai railway gate to avert a law and order situation.
Activist Freddy Travasso has appealed to the Sao Joe de Areal villagers to come for the demarcation on Monday. He has also invited the WRD Minister Filipe Neri Rodrigues for the Monday demarcation and to see for himself the disaster in the making in Areal village by the railways.
Sarpanch Miguel Gomes told the media that the panchayat had told the Railways to stop all work at the Nessai railway gate on grounds that they have failed to provide complete plans to the panchayat body.
"However, we were told that the Railways has resumed work by deploying two JCB machines. When we questioned them, they only said they have received instructions from Hubballi. When I reached the site, the people had already stopped the work of excavation", the Sarpanch said, while saluting the villagers for stopping the work.
He said the villagers got the two JCBs withdrawn from the site, adding "after we brought the issue to the notice of the WRD minister, the latter spoke to Sahoo and got the work stopped till Monday."
Ex-Sarpanch Vincy Mascarenhas said though the Railways has insisted that the land belongs to it, it has to date failed to provide the complete plan of the land ownership.