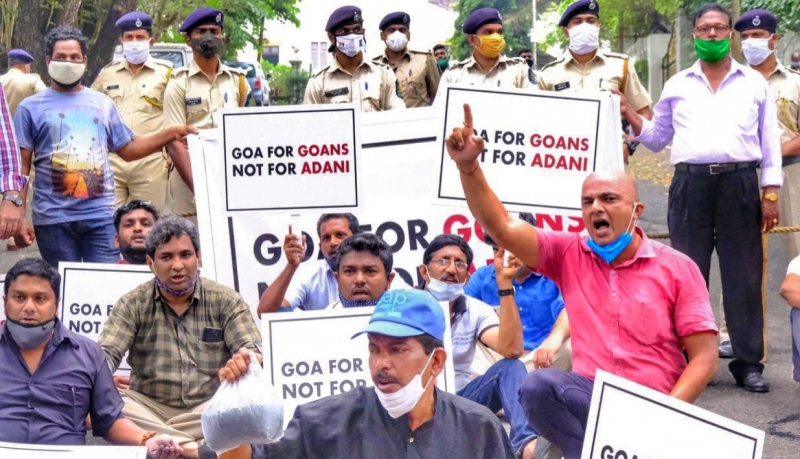 PANAJI
The Aam Aadmi Party (AAP) leaders and volunteers were detained by the police after they staged a protest at Chief Minister's residence in Panaji. The leaders and members of the party were stopped near the gate and were not allowed by the police to meet Chief Minister Pramod Sawant.
AAP members, activists and volunteers shouted slogans at the venue for around half an hour. Rahul Mhambare, Convenor and Sandesh Telekar, activist and member of AAP got into an arguement with some policemen when the latter said they need to take an appointment to meet the Chief Minister.
Slogans against coal transportation through Goa rant the air during the protest.
AAP volunteers had a small bag of coal to be handed over to the chief minister as a gift. Rahul Mhambare said, "If he (Sawant) is dumping coal on 15 lakh population of Goa, why isn't he ready to get the feel of a pinch of it?". The police stopped the convenor and activists from carrying the coal bag to the CM's residence. Police agreed to hand over the memorandum to the chief minister.
Mhambare further added, 'Goa is for Goans. Not for Adanis'. Why Sawant is scares of this?"
AAP convenor Mhambare, members Sandesh Telekar, Venzy Viegas and others were present during to protest. All the volunteers, activists, members along with the convenor were detained and taken to Agassaim police station.