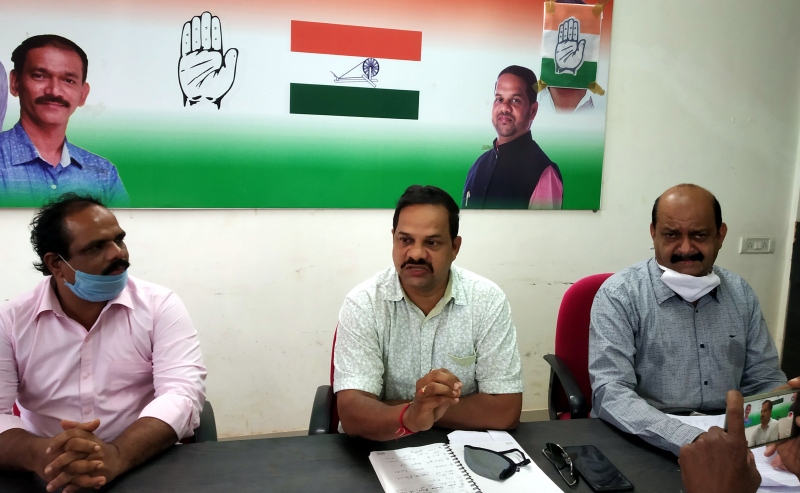 MAPUSA
Questioning the Mapusa Municipal Council's (MMC) decision to divert funds for the development of the new bus stand, the Congress on Tuesday said the town was facing several burning issues like lack of proper water supply and the ever festering garbage problem and a bus stand was last on people's mind.
"The decision to divert funds for development of a new bus stand smacks of political skulduggery. The civic elections are due and the council wants to show the people that they are doing something. They want to use the development fund for political interest," said Vijay Bhike, President of North Goa District Congress.
The North Goa District Congress chief was addressing a news conference along with his general secretary, Bolanath Gadi and former chairperson and senior councillor Sudhir Kandolkar.
The MMC in a recent council meeting resolved to divert Rs 3 crore from the 14th Finance Commission allotted to construct the administrative block of the municipal council to develop the new bus stand.
Bhike said during the bypolls of Mapusa, local MLA Joshua D'Souza in his campaign had said that the construction of a new bus stand was his top priority.
"The Mapusa MLA has realised that he has failed to keep his promise and now wants to kick-start the work by hook or crook," he said.
He further said that Congress has alerted all former chairpersons and councillors of Mapusa and will soon hand over a memorandum to the Urban Development Minister and the Director of Municipal Administration against the diversion of key 14th Finance Commission funds for some temporary work.
According to senior councillor Sudhir Kandolkar, the construction of the administrative block was more important than the new bus stand.
"The bus stand is an over Rs 40 crore project. The entire bus stand work should be taken in one go instead of undertaking a piecemeal job. Taking up levelling work and erecting a shade and other ancillary works will be nothing but a waste of money," Kandolkar said.
He said he had objected to diversion of funds for the new bus stand in the council but nobody supported him. He further said the council should review the decision.
"The MMC's administrative block is the need of the hour as we don't have a proper hall. The civic body also does not have a place to store its records," he countered.