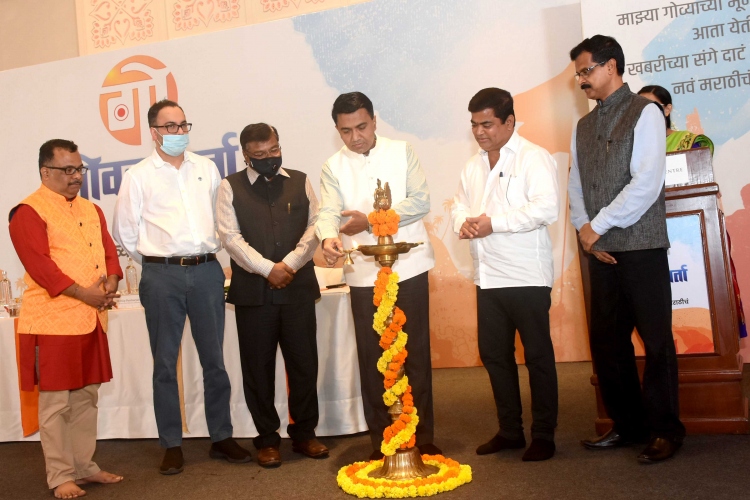 PANAJI
With its hold on the electronic and print journalism in Goa for the past 14 years, leading media group Fomento Media announced the launch of its Marathi channel Goan Varta Live on the auspicious day of Dhanatrayodashi.
Inaugurating the channel, Chief Minister Pramod Sawant expressed hope that the channel would be a voice of Goa, and a good connect between the two neighbouring States, Maharashtra and Karnataka where Marathi speaking population dwells in large numbers.
"Goan Varta Live's role in the growth and development of Goa will prove to be very crucial," said Sawant, adding "This Marathi channel will surely be a prominent face of Goa, voicing the emotions of the people of Goa, and working towards promoting the socio-cultural vibrancy of this tiny State."
The chief minister went on and announced that the State will be celebrating its 60th Liberation year in 2021 with year-long programmes, and hoped that the channel can broadcast these for the global Goans.
"The channel would help in changing the picture postcard perception of Goa which is not limited to churches, temples or beaches. Real Goa lies well beyond these three, we do thrive on the values, traditions, socio-cultural activities that have kept the spirit of Goans alive throughout living under decades of foreign oppression. There is religious harmony in the State and we are so proud of our socio-religious fabric," Sawant said.
The chief minister also promised to ensure a safe environment in Goa and keep it pollution-free. "Just like all other Goans, I, too, am concerned about Mollem," he assured the audience.
Speaking in Marathi, deputy chief minister Chandrakant Kavalekar, after inaugurating this year's special Diwali issue of the Marathi daily, Goan Varta, said that the people of Goa speak in Konkani and read Marathi.
"The new Marathi channel Goan Varta Live will surely make us express ourselves in chaste Marathi as well. This was the need of the hour and under an able editor, Kishor Naik Gaonkar, this Marathi channel would bring to fore the rural issues," said Kavalekar.
Noted poet and writer Dr Dilip Pandharpatte, secretary and director general, Information and Public Relations, Maharashtra, who was present on the occasion as chief guest pronounced the launch as a good start, as it gave an opportunity to meet and interact in person, instead of an e-gathering.
Stating that Goa is not very different from Sindhudurg, where he worked for six-seven years, Dr Pandharpatte mentioned that Goa's atmosphere has a special charm.
"There is something that charges a person as soon as one steps on this soil. Tourists prefer Goa to Sindhudurg, though both are laced with beautiful beaches. Goa has a history and geography – it's a melting pot of different cultures. Many different cultures dwell here peacefully and this is amazing," exclaimed the poet, recalling his moments of interaction with Goa's late poet Vishnu Surya Wagh.
"There should be no differences of opinion as far as the language is concerned. Goa has a long history when it comes to Marathi literature, and Goan Varta Live would showcase this unflinching, deep relationship of the people of the land with this language", he said.