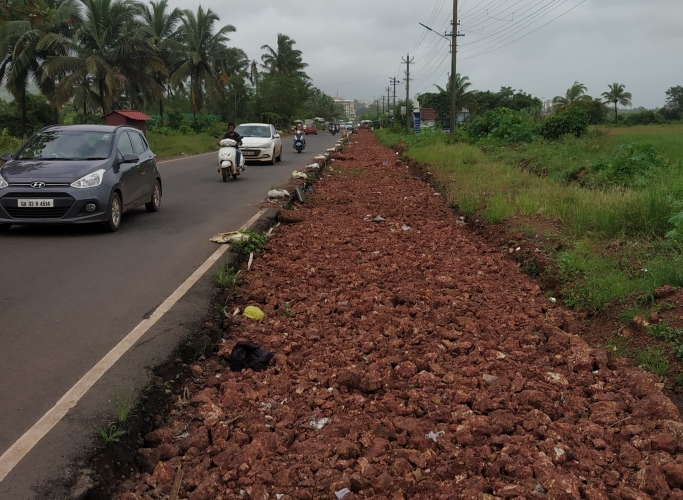 MAPUSA
The lives of hundreds of motorists particularly two-wheelers are endangered as work to widen the main district road (MDR) at Canca near Mapusa has been abandoned nearly a month ago.
The road widening work from the Canca side along the main Mapusa to Calangute thoroughfare was taken up two months ago and has been left unattended by the contractor causing inconvenience to the motorists.
The incomplete road widening work poses a threat mainly to the two-wheeler riders.
At least three accidents involving two-wheelers have taken place on account of the incomplete work at night time last week. There may have been more such mishaps that go unreported.
From Canca circle, a stretch of 800 metres of the road on the right-hand side has been dug open and paved with stones.
The contractor and the authorities have failed to install signboards to warn unsuspected motorists about the dug up road, especially during the nights.
However, small stones and sandbags with a patch of white paint have been placed on the edge of the tarred road which cannot be sighted during the nights.
"More than three weeks have passed since the road widening work has been halted. During the nights the particular road stretch has turned into an accident-prone zone as motorists, particularly two-wheeler riders are unable to see the dug-up road and invariably meet with accidents. To add to the misery of the motorists some of the streetlights in the area are not functioning," said Bruno Fernandes, a resident of Canca.
Sources informed that the work has been stopped as one of the tenants who was losing land to road widening has approached the courts.
Sarpanch of Verla-Canca, Amita Korgaonkar informed that the contractor has been told about the problems faced by the motorists, particularly at night.
"The contractor has been asked to take necessary safety measures so that motorists are forewarned about the dug-up road. We have told him to erect signboards and take other steps so that mishaps can be avoided," Korgaonkar said.
The widening and beautification of the road from Canca Circle to Mapusa Gandhi Chowk costing around Rs 11 crore was kick-started on July 1.
The road will have a carriageway of seven metres on either side with a median at the centre. The road will also have footpaths for pedestrians.
The work was expected to be completed within five months.