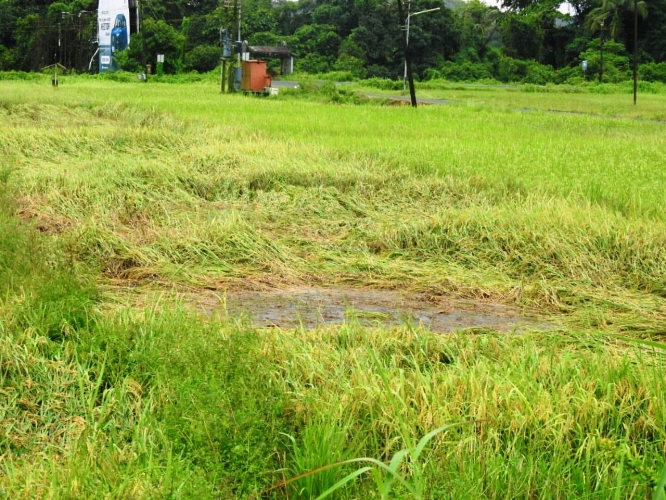 Photo Credits: Santosh Mirajkar
MARGAO
Incessant and heavy rains over the last three days have left around 35 hectares of standing paddy crop damaged in the talukas of Salcete and Mormugao.
Areas badly affected by the incessant rains and which has reported heavy crop damage is around Maina Curtorim, the Arlem-Raia-Nuvem belt and Verna in Salcete taluka. Some parts of Arossim and Cansaulim in Mormugao taluka have also reported damage to crops.
Preliminary report compiled by the Margao Zonal Agriculture Office showed that the gusty winds accompanied by heavy rains during the last three days have resulted in heavy crop damage to paddy crop. The preliminary report was compiled by the Margao ZAO following instructions received from the head office.
Sources said the areas affected included Maina Curtorim, some parts of Arlem Raia Nuvem and Verna. He said the preliminary survey reveals standing paddy crop from around 28-30 hectares from these above areas have been damaged.
The remaining five-seven hectares of crops damaged pertains to the areas along the coastal belt of Seraulim-Benaulim and Varca and some parts of Arossim, Cansaulim in Mormugao taluka.
"Our preliminary report states that around 35 hectares of crop have been lost. It is pertinent to note that the paddy crop which have been sown early have borne grains. This crop, which was to be
harvested in around 20 days have suffered due to strong windy condition during rains", an official said.
He added the crop which was sown late and will be ready for harvest in one month or more have not been affected.
Chairman of Curtorim Bio-diversity Committee, J Santan Rodrigues informed that paddy fields in Curtorim village within a village project have been badly affected at Raloi-Tollem/Vaingonnode due to heavy rains.
He said the fields at Sonbem Addi in Maina Curtorim and many other places in Curtorim village has been badly affected by the rains. Santan has claimed that more than 30 hectares of paddy has been affected by the rains.
Crops at many areas of Nuvem village have also been badly affected by the rains. Last year too, farmers from across the State had reported heavy losses of standing crop because of the rains and gusty winds.