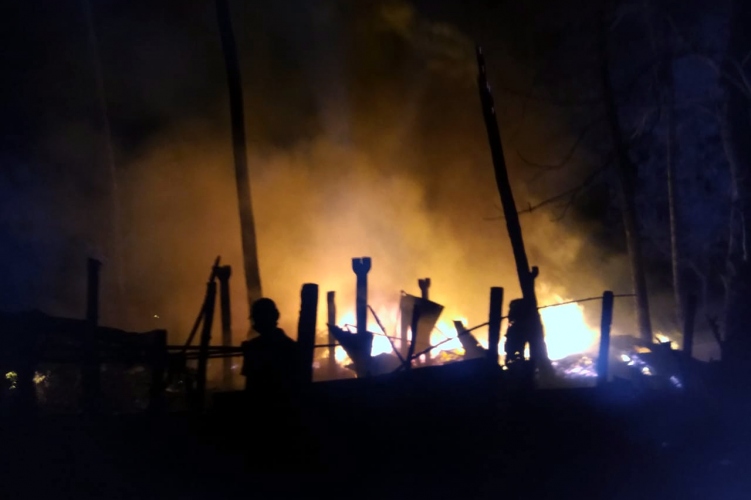 CANACONA
A seasonal resort at Palolem beach went up in flames when three gas cylinders are reported to have exploded on Monday night.
While there were no human casualties, the cottages, huts, store room and an open air restaurant were all destroyed in the inferno.
According to local sources, the fire broke out after three back-to-back blasts were heard from the kitchen of Dream Catcher Resorts, which operates seasonal cottages and huts, yoga classes and an open-air restaurant at the northern end of Palolem beach.
Flames soon spread in all directions, destroying cottages, huts, storeroom and an open-air restaurant in the resort.
The fire also damaged a portion of a residential hut of a local family, as well as toilets and three wood storage huts of locals located close to the resort and a number of coconut trees.
According to some eyewitnesses, the inferno could be seen from afar as the flames rose as high as coconut trees in the vicinity.
The Canacona fire services were alerted and two fire tenders rushed to the site. However, sources said none of the water pipes could reach near the burning cottages, huts and restaurant of Dream Catcher Resorts.
Locals tried to control the fire in every possible manner, while fire brigade personnel finally succeeded in moving a fire tender and a water pipe closer to the flames.
Firefighters managed to pull out 10 gas cylinders from the kitchen in a bid to prevent further explosions and additional damage to property.
A Canacona police team was also at the site to handle the people and to take control of the situation.
There was some panic in the locality, as a number of houses are located in proximity to the resort. However, no person was reported hurt in the fire.
Deputy Speaker and Canacona MLA Isidore Fernandes rushed to the site. CMC ex-chairperson Simon Rebello, Diwakar Pagui, ex-councillor Dayanand Pagui and several locals went to assist the firefighters.