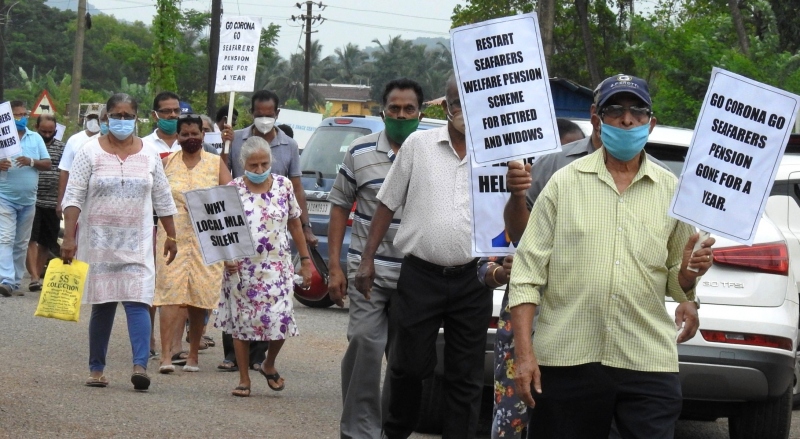 MARGAO
Retired seafarers and widows intensified their agitation in support of their demand for the immediate restarting of pensions by holding a peaceful protest dharna in Cuncolim.
Even as the government continued to maintain stoic silence to the cries of the retired seafarers and widows in times of Covid, the seafarers have resolved to take the agitation in support of their demand for immediate restarting of pension to the nook and corner of Goa.
After paying respects to the freedom fighters of Cuncolim at the memorial, the retired seafarers and the widows sat on a peaceful dharna, demanding that the government release their pension, which has been discontinued since the last one year.
A widow Laura Coutinho wondered why the government is bringing the retired seafarers and widows on the streets in times of Covid pandemic. "Why is the government bringing the senior citizens and elders, who are retired seafarers and widows on the streets? It's now a year since the government had discontinued the pension scheme for the retired seafarers and widows. We do not know our future", she said.
President of Goan Seamen Association of India, Frank Viegas said the protest dharna at Cuncolim coincides with the commencement of the Navratri festival and hoped the government will take a positive decision in favour of the retired seafarers by restarting the pension.
"We are in Cuncolim today, the historic village which had fought for the freedom of Goa. Today is the auspicious day of Navratri. From Cuncolim, we renew our appeal to Chief Minister Pramod Sawant to restart the pension scheme", he said. The agitation, which began on October 2 from the historic Menezes-Lohia Chowk, Assolna has since covered the constituencies of Velim represented by Salcete's lone Minister Filipe Neri Rodrigues and Benaulim, represented by Churchill Alemao.
Frank reminded the Chief Minister, Ministers and the MLAs that any amount of development will have no meaning if senior citizens and elders are unhappy and fighting for their pension benefits.
He pointed out that the seafarers pension scheme had laid down certain guidelines, including the eligibility criteria. "This government has stopped the pension scheme by forgetting the direct and indirect contributions made by the seafarers to Goa and the local economy over the years", he said.
The GSAI President made a fervent plea to Cuncolim MLA Clafacio Dias to wake up to the reality and the plight of the retired seafarers and widows and get the government restart the pension scheme.
"Cuncolim constituency is the heartland of the seafarers community. The local MLA should wake up and take care of the retired seafarers and widows by asking the Chief Minister restart the pension scheme", he demanded.
The participants later took out a silent protest march around the freedom fighters memorial. The next protest dharna is scheduled in Nuvem constituency on Sunday.