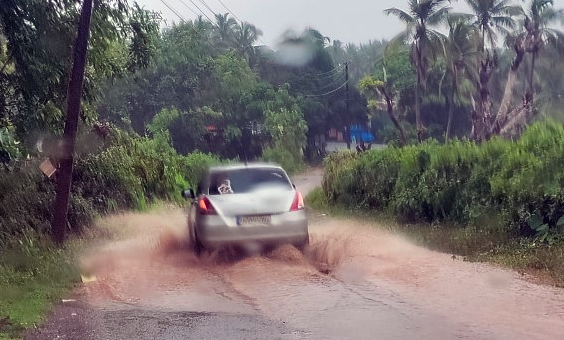 Photo Credits: Kathy Fernandes
CANACONA
Heavy rains in Canacona since the two days have left many roads flooded in low-lying areas of the taluka.
According to sources, water has begun to rise sharply in most rivers following continuous rains.
Only a few vehicles were seen moving along the waterlogged roads, while the taluka's commercial hub at Chaudi wore a deserted look even though all shops and establishments remained open.
Offices and banks were also seen functioning normally, but only a few people ventured out in the rains to visit the offices and banks. All educational institutions in the taluka were also open on Thursday.
Meanwhile, the Canacona observatory recorded about 114 mm of rainfall on Thursday morning and the seasonal rains have inched closer to a thousand mark at 938 mm.
The Chapoli dam, considered the lifeline of Canacona, having attained substantial storage at 635.275 Ham, has a water level of 33.30 metres RL (Reduced Level) in its reservoir.