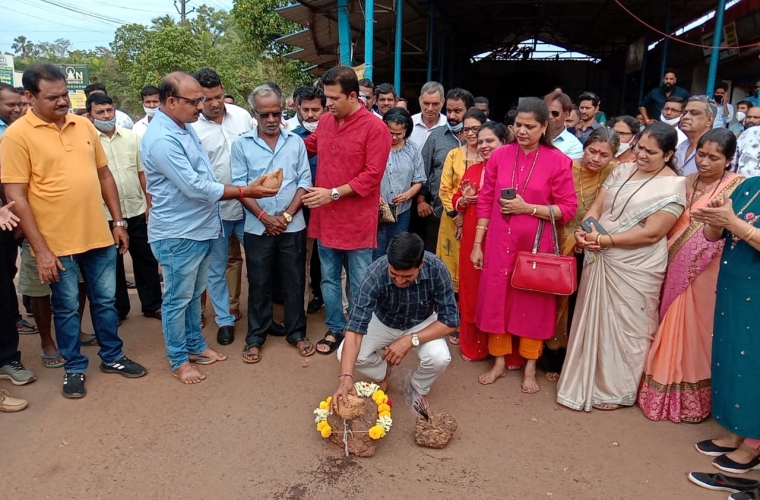 Photo Credits: Anil Shankhwalker
PORVORIM
The Pilerne-Saligao road via the Pilerne Industrial Estate is being widened and hotmixed spending Rs2.3 crores.
Speaking during the launch to widen and hotmix the Pilerne-Saligao road via the Pilerne Industrial Estate, Saligao MLA Jayesh Salgaonkar said traffic along the Pilerne-Saligao road has risen sharply since the Pilerne Industrial Estate came into existence.
"Since the road is narrow, many vehicles have fallen into fields while negotiating turns and oncoming vehicles. Further, several potholes have developed on this road. Given the long-pending need, this road is being widened and hotmixed at a cost of Rs 2.3 crore," said Salgaonkar.
"Besides, coconut saplings will be planted alongside the road and when these saplings grow into coconut trees, the road will get beautified."
The Saligao MLA also said work to lay underground power cable is in progress at Pilerne.
"As a result, the electricity department had dug roads at many places in Pilerne. When the this underground cabling work gets over, all roads will be hotmixed."
"One new transformer has been recently installed in Pilerne and the remaining transformers will be upgraded," said Salgaonkar.
Earlier, Pilerne Sarpanch Sandeep Bandodkar thanked Salgaonkar for taking up the work of widening and hotmixing the road, following a request by the panchayat.
Deputy Sarpanch Sonal Malvankar and Panch member Amarnath Govekar also spoke on the occasion.