Mother Nature has lost out hopelessly to greedy politicians denuding its forests; plundering its beaches and hillsides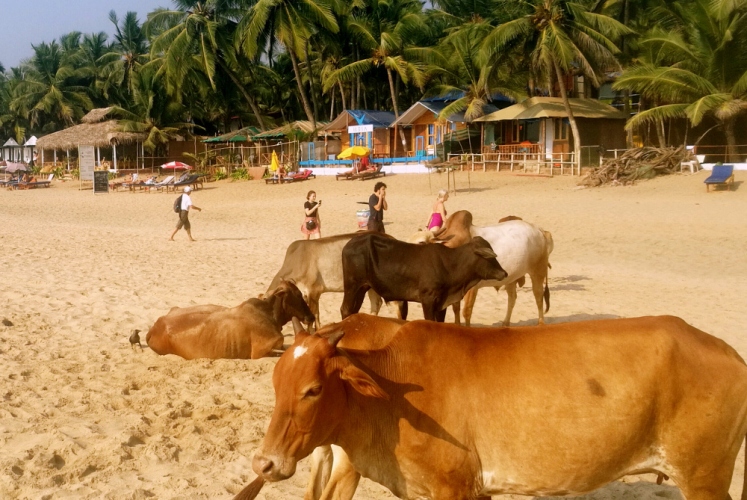 been a frequent visitor to Goa since the last four decades, if not more. The rapid deterioration, in all spheres affecting its people, especially in the last ten years, has saddened me to no end. It is as if a bubonic plague has swept across this little State of India, slowly stifling the inhabitants to a slow, humiliating and inglorious death.
Mother Nature has lost out hopelessly to greedy politicians marauding the land and its people, denuding its forests; plundering its beaches and the hillsides. Concrete jungles have mushroomed all over the countryside, like sores on the face of a leper. I have noted, with alarm, that beneath a placid façade , is a raging; boiling volcano of crippled dreams ; surging and undisciplined emotions, from long years of frustration and exploitation, ready to erupt. Anytime !
This once-upon-a-time paradise is deteriorating fast. The easy going local Goan populace are now in a minority. There has been a huge influx by people from Kerala, Karnataka, Assam , Delhi and even Bengal! Nearly all hotels and restaurants' staff are from Bengal, most of whom are illegal migrants from Bangladesh. They sport Hindu names .But if one prods them a bit, especially by speaking in the Bangladeshi dialects (Bangal), they easily open up! How many of these youngsters owe their loyalty to the Lashkar- e -Toiba or sympathize with the ISIS or Taliban, is anyone's guess … and the local police cannot be concerned, if their palms are greased regularly. The shopkeepers lining the streets outside resorts and large Hotels are mainly Kashmiris. Taxi tariffs are ad hoc and very steep. The drivers say this is so because of the increase in "hafta" (bribe) the cops extort from them. All shopkeepers, taxi owners et al I questioned, barring none, hurled brickbats at the corrupt police cadre, which is truly a bane to the people.
Delhi realtors, DLF, have a mega housing project, which locals claim, is severely and irreparably damaging the ecological balance. Thirty kilometers from Panjim, at Dabolim, DLF constructed six hundred top-of-the range houses along the hill slopes of this picturesque region ,in a "no development zone " regardless of the protests from NGOs, including the Goa Bacchao Abhiyan. But it is a daunting task to raze the giant structures built by DLF, causing even more ecological harm, to dump the rubble. It was a catch 22 situation for Parrikar, and now for Sawant.!
Another major threat to the locals is the Russian mafia, who have a very solid presence especially in South Goa. Benaulim, Salcete where I stayed recently, is literally ruled by them. The drug and flesh trades are massive money spinning rackets, in which everyone from the powers-that-be: people at the highest level in the political hierarchy, to top cops, and even the lowly, but, paradoxically, all powerful constable, who is tasked with collecting the "hafta" for distribution to the police force, according to rank, have a stake, regardless of the pandemic conditions faced by the rest of the country.
In Goa, it is still a 'susegad" (let it be) attitude. Hashish, ganja, cocaine, heroin are easily available, for a price. The Russians also have a large commercial interest in the flesh trade. Apart from a few thick set Russian women, they have their stables stocked with girls from East European countries, who can only speak their native tongue or a smatter of Russian.
Until five years ago, there was bitter rivalry between the Israeli and Russian mafias. The Israelis now control the coast of Vagator, Anjuna and Chapora, which is the hub of most international tourists, while the Russians operate in Morjim and Arambol. The British, not to be left out, have a presence in Candolim, South Anjuna and the Baga/Calangute sectors.
Is Sawant really serious in cleansing the muck which is today's politics in Goa. Albert Einstein had said " I never think of the Future , for it comes soon enough !"
But times have changed since Einstein. If Sawant is unable to quickly bring the building mafia and others to heel, the rot will have well and truly set in. The future seems bleak. I fear that Goa is on the way to becoming Paradise Lost, with apologies to John Milton!
(The writer is a lawyer. While he is based in Pune, he appears in the High Courts of Bombay, Himachal Pradesh, Punjab & Haryana, Calcutta et al, as well as the Supreme Court of India.)