Krutarth Mardol has kick-started a campaign to educate people on pollution caused by the bursting of firecrackers. They also appeal to the people to stop the purchase of fire crackers and instead utilise the amount for environment-friendly causes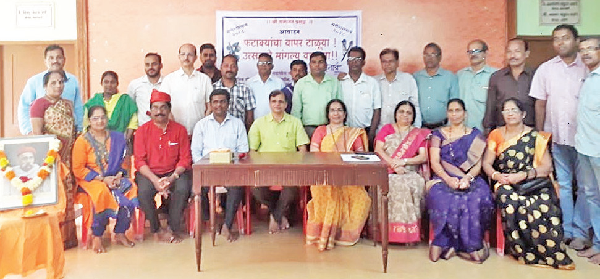 BHARATI PAWASKAR
As festivals approach markets overflow with colourful decorative items, sweets, garments and firecrackers. In India the joy of celebrating festivals has become synonymous with the bursting of fire crackers. "A cracker-free Ganesh Chaturthi or Diwali doesn't give the feel of festival," argue many, especially children and young adults but this year Krutarth Mardol, a voluntary organisation kick-started a campaign on August 1, to appeal to people to ban fire crackers.
"We began this educative campaign in association with Indian Medical Association (IMA) Ponda to create awareness among the people regarding the pollution caused by the bursting of fire crackers," shares Rajendra Desai, president, Krutarth Mardol. He along with a team of like-minded individuals and a panel of doctors from Indian Medical Association (IMA) are already working on the ground level. Apart from printing pamphlets on the serious hazards of crackers, the team walks in the crowded places during busy hours giving talks and inviting attention.
"Our initiative started on Lokmanya Tilak death anniversary, August 1," adds Deepa Miringkar, one of the volunteers at Krutarth Mardol. Her husband Jayant Miringkar is also in the team along with Anand Vaghurmekar and Sanjay Ghate. "We have printed pamphlets on awareness of various types of pollution created by the fire crackers. These pollutions are air, water, soil and noise. Overall health of living beings is affected too. Plants, animals, birds, fish and human beings are seriously affected by the noise, air, water and soil pollution. And since crackers add to such pollution, we must put a ban on their use," appeals Miringkar.
The mission had its first talk at Tapobhumi, Kundai where Dr Lalana Bakhale spoke on the ill effects of cracker pollution along with Rajendra Desai. Swami Brahmeshanand of Tapobhumi also educated people on various types of pollutions caused by crackers and appealed not to use them during festivals. Krutarth Mardol will be organising a prabhat feri (morning walk) to create awareness on this issue in Ponda and commoners will be asked to join hands too. "Currently we are distributing pamphlets to people on streets and also visiting schools, colleges and offices too. This week we will be having a talk by one of the doctors on our panel in the busy marketplace after 5.30 pm," informs Miringnkar.
Buying firecrackers promotes child labour. Employing children into the fireworks industry is a harsh reality. Boycotting crackers will have an indirect and significant impact on the child labour abuse still prevalent at Shivakashi in India.
So far the team has organised educative talks and distributed pamphlets at VHP hall at Khadapabandh, Rajiv Gandhi Kala Mandir auditorium, government offices like PWD, Electricity in Ponda. "Bursting crackers has never been a part of our tradition and should not be carried out in the name of religion. Let's promote environmental friendly Ganesh Chaturthi as this is an educative festival that teaches us to respect our environment. The practice of bursting firecrackers should be stopped for all festivals," observes Vinda Borkar, a volunteer at Krutarth Mardol.
"A more productive and fulfilling way of celebrating Ganesh festival would be to use the same money to charity. Discourage your kids from burning crackers and inculcate good morals in them. Let's bring happiness to ourselves and to the less privileged. Let the change start with Ganesh Chaturthi," appeals the president of Krutarth Mardol.