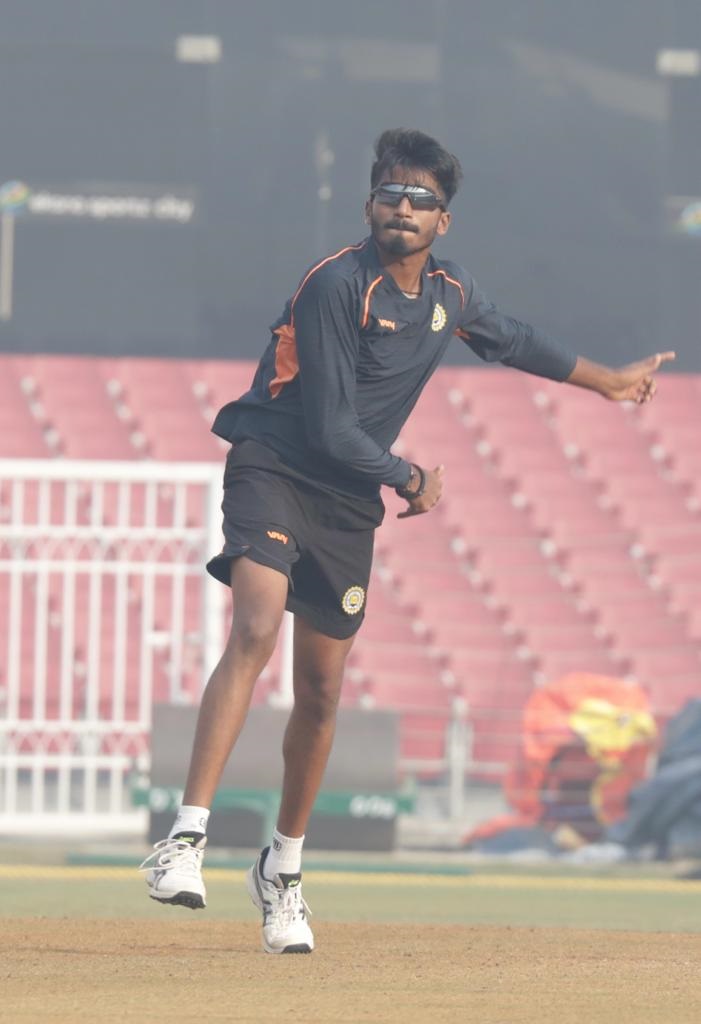 MARGAO
Sandeep Redkar breathes a sigh of fulfilment when reflecting on his son's selection in the BCCI emerging cricketers' camp at the National Cricket Academy in Bengaluru and says without a hint of irony. "It has been a long journey."
The father of 22-year-old Mohit Redkar, an off-spinner and attacking batter, said, "I was never scared. The fear was removed from him. I asked him if he wanted an arm-guard or chest guard, and he said, 'No, I don't want these things.'
"He always says, 'Don't worry about me,' and that gives me confidence. He is tough. When he gets injured, he doesn't show it."
After studying in Child Care School till Std IV, Mohit's parents Sandeep and Snehal Redkar took a bold decision to enrol him in Mahila Nutan English HS, Margao only for the reason of cricket. At the age of 12, Mohit represented Goa at U-14 National School Games in cricket at Delhi and scored three half-centuries, against Punjab, Delhi and Chandigarh.
Before that, he was not selected in GCA's U-14 State team due to his less age. He opened the innings for his school team and also for Fatorda RCC in many tournaments in Goa and outstation cricket tournaments.
Mohit's mother Snehal, a librarian at Vivekanand HSS, Borim, played an important role in grooming Mohit's cricketing career. Right from his school days till the Higher Secondary School, she took Mohit from their residence in Dicarpale-Navelim to Fatorda ground and also to the match venues. She has up-to-date records of Mohit's cricket matches to this date.
Mohit Represented Goa at U-14, -16, -19, -23 levels and now he is a Ranji player and played all the seven matches of the league stage. He was always on the radar of all the GPL teams of Goa Cricket Association. This year, he was the second-highest paid cricketer in the State after Darshan Misal.
2021-22 season was good for Mohit. He was the highest wicket-taker in Goa Premier League (GPL) with 17 wickets in 4 matches and was the highest-paid player in U-25 category in the GPL Auction. In U-19 cricket tournament of BCCI, Mohit smashed two centuries.
Mohit came into the limelight after his good show in the U-19 cricket tournament where he excelled in batting and bowling with two centuries, scoring 415 runs and took 28 wickets. He was included in the U-23 GCA's team for the last league against mighty Railways at Sanguem Cricket Academy ground. Mohit grabbed 7 wickets in that match and scored a breezy 42. From here he never looked back.
Mohit grabbed the opportunity in his first season of Ranji and took a fifer in the debut match against Rajasthan at Porvorim Cricket Academy ground. He played a vital role against Kerala wherein he again bagged 5 wickets. In the last season, he picked 19 wickets and scored 238 runs with the bat.
"My dream for him, when he started cricket at a young age, was for him to play international cricket," father Sandeep said. "He has worked hard, and also myself and my wife (Snehal) have worked hard with him to get him to the National Cricket Academy. We were really happy to see him make the selection in the National Cricket Academy," Redkar said.
"Our dream came true. His mum and dad saw him given his cap in the State Ranji trophy and give a good performance. It was really emotional. We couldn't believe what we were seeing. He is still just 16. It was great for us. "All my family and friends, and all the Goans, are very, very happy."