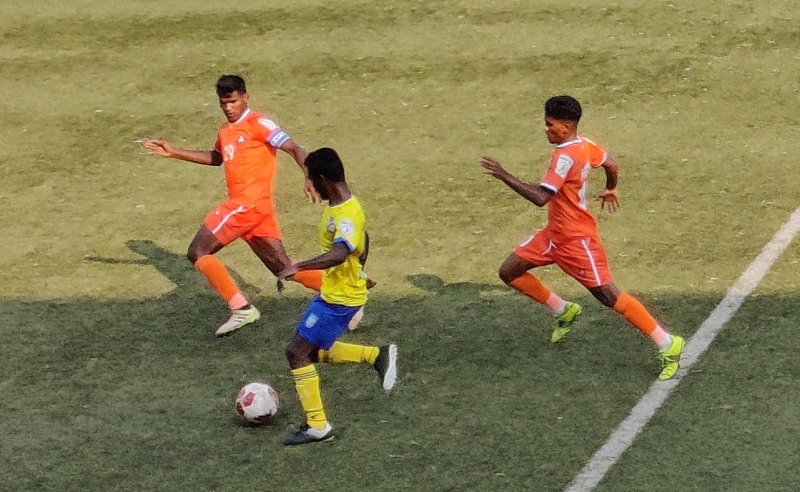 PANJIM FOOTBALLERS 0
FC GOA 1
(Mevan Dias 18')
DULER
FC Goa scored a solitary goal win over Panjim Footballers in the Selvel Goa Professional League at Duler Stadium, Mapusa, on Friday.
Mevan Dias scored the only goal of the game in the 18th minute to give the Gaurs their second consecutive win of the season. Meanwhile, Panjim are yet to register a win in the competition.
In the 12th minute, FC Goa stretched the opposition defence when Lal HP threaded a long diagonal pass to Velory on the right flank, who played a cutback pass to Mevan, but the last-named fired wide.
FC Goa broke the deadlock six minutes later through Mevan. Deeshank whipped in a corner kick which the Panjim team failed to clear. The ball fell to Aditya Salgaocar, whose off-target shot was guided in by Mevan, who was in the right place at the right time.
In the 28th minute, Janio made a crucial tackle when Deehsnak was through on goal and with just the keeper at his mercy. Panjim football registered their first shot at the goal from a set-piece but Irfan's freekick was saved by FC Goa keeper Hansel Coelho. In the 39th minute, Ivan Costa made a crucial save for FC Goa when their keeper Hansel was beaten by Irfan. However, the Panjim striker sent in a weak shot which allowed Ivan to clear the ball to keep their lead intact.
There were not many clear-cut chances created in the second half. Though the play was more end-to-end, it failed to create any goal-scoring opportunities. At the hour mark, Jovial Dias made an attempt from a shot from outside the box which was cleanly collected by Panjim keeper Preston Rego. At the other end, Lokesh attempted a shot from distance which zoomed over the crossbar.
Panjim relied on long deliveries in the box which didn't faze FC Goa much. Irfan, trying his best, tried to get from the left flank to centre before hitting a poor shot which was way off target. In the dying minutes, Delton Colaco fired a shot from outside the box, which went past the post.