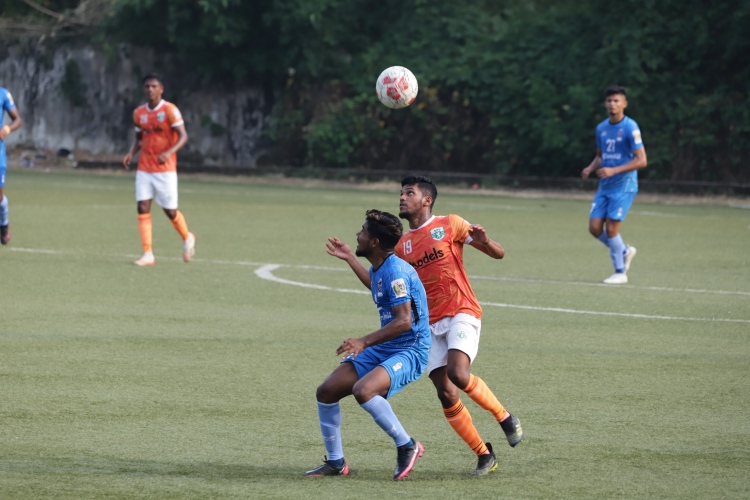 Photo Credits: GFA
DULER
Sporting Clube de Goa registered a thrilling 1-0 win over Churchill Brothers SC in the Selvel Goa Professional League at Duler Stadium, Mapusa, on Saturday.
Pushing the barriers of pain, Clive Miranda came on as a second-half substitute despite having an arm injury and scored a 50th-minute header. He then defended relentlessly to ensure his side managed a hard-fought 1-0 win.
Missing the services of their leading goal scorer for the last two seasons – Marcus Mascarenhas, who is sidelined due to injury, Sporting Clube started on a nervous note while Churchill Brothers went all out from the word go. In the early minutes, Quan whipped in a freekick in the area which was perfectly timed by Afdal. However, he couldn't direct his header on target.
Sporting couldn't match their opponents who used their pacy playmakers to make it difficult for them. Afdal created problems for Flaming Oranje throughout as he tried testing the keeper from distance. Sporting had a chance at the half-hour mark when Girish Naik and Liston combined to find Stendly Fernandes, who then tried to find Akeraj in the box, but Churchill's defence cleared the danger.
Quan's deliveries troubled Sporting Clube and one such instance would have put them ahead but Asif's header was kept out by the Sporting Clube defence. Sporting Clube's youngster Liston Cardozo had many chances throughout the game. The talented youngster, despite being brilliant on the field, lacked the final finishing touches as most of his shots either lacked power or were off target.
In the second half, Sporting Clube introduced Clive and the player scored within moments of coming on the pitch. In the 50th minute, Girish Naik whipped in a perfect delivery in the box which was met by Clive, who dived low to head the ball past Churchill Brothers keeper Nora Fernandes.
In the 54th minute, Churchill Brothers came close to scoring the leveller when Jobern played a low ball to Aaron Barreto. However, before the youngster could pull the trigger, Alton Vaz blocked the effort. At the other end, Brandon Gomes tried a shot from a distance but his low grounder was off target.
It was a much-improved performance in the second half from Sporting Clube as Liston, Clive and Stednly put pressure on Churchill Brothers. In the 76th minute, Quan hit a left-footed shot which narrowly sailed past the post.
Sporting Clube survived a late scare as Vikas's looping header went off target. Sporting Clube suffered a late blow when Akeraj Martins picked up an injury in the stoppage time, leaving the Flaming Oranje coach with a serious selection dilemma for the upcoming fixtures.