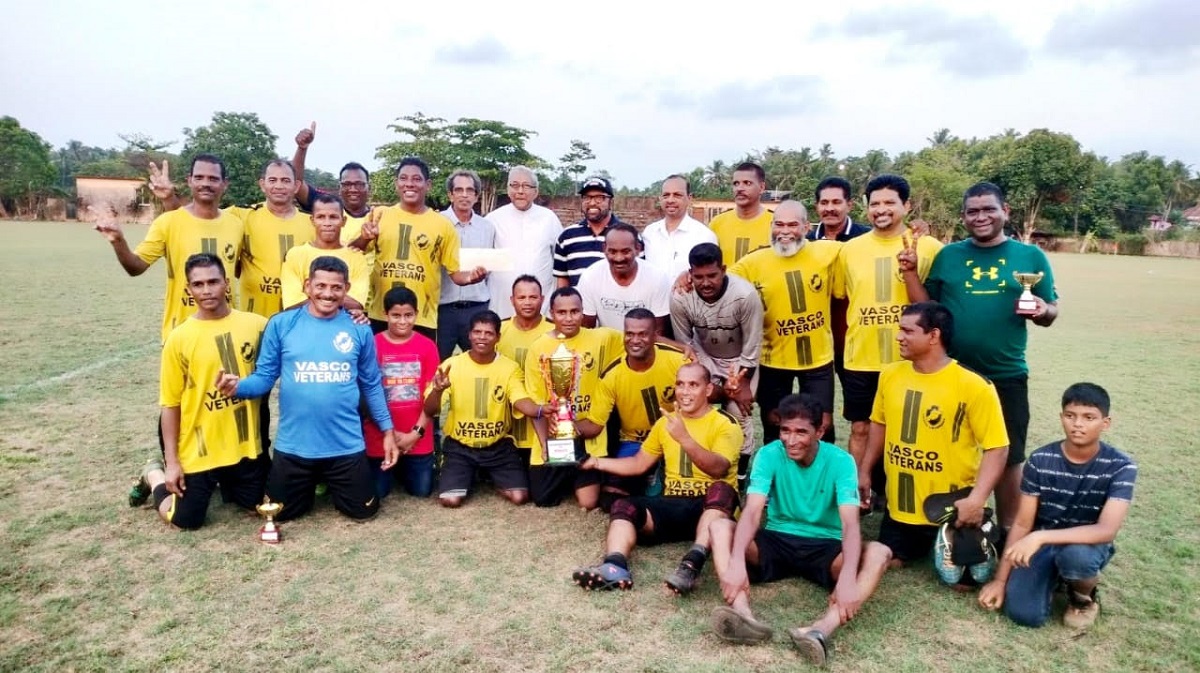 MARGAO
Augustine Misquita scored on either side of half-time to help Vasco Veterans to a 2-0 win against Navelim Veterans to win the title in the third Assolna Veterans Football Cup.
Misquita was quick to dart in and head a Vishant Pednekar corner in the very second minute to give Vasco the lead, while the opportunistic striker made it 2-0 with a snap shot from close deep into the second half to hand Vasco Veterans a well-deserved win.
Vasco Veterans started well controlling proceedings from the start, and the very first corner of the match fetched results as Misquita darted in to head a deep swerving kick from Vasco playmaker Pednekar.
Goaded by this early goal, Vasco Veterans mounted pressure on the rival goal and should have easily settled for a bigger win, had the nippy Francisco Fernandes (Pele) been more alert in a one-on-one situation against Navelim Veterans goalkeeper Julio Quadros.
Andrew Theodosio too had a golden opportunity before the Navelim goal, but he looked in awe as his meek effort strolled past an empty goal.
Navelim regrouped and tried to find an equaliser in the second half, but the Vasco defence was well marshalled by Ramesh Palkar, Nelso Landez and Anandrose Fernandes (Babush) leaving goalkeeper John Fernandes with barely little to do.
Watched by a huge crowd, Vasco got their second goal deep into the second half when Misquita latched on to a stray ball coming his way to slam home a winner.
Fr Sertorio Rodrigues, parish priest of Assolna church was the chief guest and gave away the prizes to the winners and runner's up in the presence of Ivon Fernandes, sarpanch of Assolna village panchayat, other dignitaries and club officials.
Former MLA Benjamin Silva graced the occasion along with Atlee Silva, while Ronnie Cardozo was the compere and Saby Crasto delivered the vote of thanks.