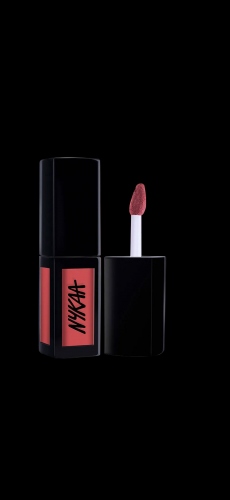 Monsoon has its relevance and definition for everyone! While for some the concoction of drizzling rain and binging on yummy food may be a delight, for others gloominess is not the vibe they want to jam to. But the season does affect each one of us in some way or the other. From making our wardrobe monsoon-proof to making shifts in our beauty routines, the monsoon can leave us in some sticky situations. But what about when we need to brave the weather with a full face of makeup, fret not, Nykaa's monsoon makeup tips will come to your rescue.
Dealing with melting makeup is certainly a big task during the monsoons. So, what do you do? Nykaa, the country's leading lifestyle destination is here with an edit of all things beauty that deserves a spot in your monsoon kit, making your makeup rain friendly. Get your hands on these season friendly beauties and keep slaying them monsoon looks!
Kay Beauty Kohl Star Kajal (https://www.nykaa.com/kay-kohlstar-kajal-spade/p/573594): A blacker than black 24-hour-long stay kajal that clings on your lids perfectly. It is 100% waterproof & smudge-proof, so it does not play the disappearing act by 2 PM. The smooth texture glides across the eye with ease to create your everyday signature looks. Enriched with Chamomile & Ceramide, it keeps your eyes refreshed and nourished. Lakme Insta Eye Liner – Blue (https://www.nykaa.com/lakme-insta-eye-liner/p/453968): Now get high definition eyes in just one stroke. The highly pigmented formula gives a deep and rich colour payoff. It's smudge-proof and convenient for everyday use.
Maybelline New York Lash Sensational Waterproof Mascara Black (https://www.nykaa.com/maybelline-new-york-lash-sensational-waterproof-mascara-black/p/535757?): Fully fanned, every lash sensational! Fluttering, long lashes are just a wand away! No clumping, no flaking, and especially no streaking.
Nykaa Matte to Last Liquid Lipstick (https://www.nykaa.com/nykaa-matte-to-last-liquid-lipstick-bombae-01/p/303841?): With 26 shades to choose from, this is long-lasting and has an extreme matte finish.
Bobbi Brown Skin Long-Wear Weightless Foundation SPF 15 (https://www.nykaa.com/bobbi-brown-skin-long-wear-weightless-foundation-spf-15/p/250932?): 16-hour breathable wear, sweat & humidity resistant, get your game face on with this luxurious foundation. Controlling oil and shine, it gives a matte look through the day.
L'Oreal Paris Infallible 24HR Matte Cover Foundation (https://www.nykaa.com/l-oreal-paris-infallible-pro-matte-foundation/p/257863): With 16 shades to match different Indian skin tones, this foundation should be your go-to foundation, especially in this weather. It's sweatproof, heatproof and waterproof, delivering a completely matte and full coverage, making it the perfect pick for this season.
M.A.C Studio Fix Powder Plus Foundation (https://www.nykaa.com/m-a-c-studio-fix-powder-plus-foundation/p/89231): 12-hour wear, available in 50+ shades, reduces THE appearance of pores, get ready to snatch those looks and keep your makeup in check despite the weather.
Huda Beauty Naughty Nude Eyeshadow Palette (https://www.nykaa.com/huda-beauty-naughty-nude-eyeshadow-palette-multi-color/p/1374406?): Take your nude infatuation to new heights with this naughty re-imagination of the bestselling New Nude palette. 18 delicious shades in 5 ultra-wearable textures have been harmoniously curated to (un) dress your eyes and empower you to be your most fierce and confident self.
Charlotte Tilbury Cheek To Chic (https://www.nykaa.com/charlotte-tilbury-cheek-to-chic/p/985222?): Cheek to Chic blusher is a creamy, colour-rich texture to create an ultra-flattering look. Light Flex Technology captures and reflects light for a glowing complexion.
Colorbar Perfect Match Primer (https://www.nykaa.com/colorbar-perfect-match-primer/p/7577): This oil-free primer creates the smoothest canvas for your makeup. Enriched with vitamin E, it masks fine lines, targets redness, and smooths your skin's texture for a flawless foundation and concealer application.
Faces Canada Ultime Pro Makeup Fixer (https://www.nykaa.com/faces-ultime-pro-makeup-fixer/p/266058?): Time to say bye-bye to last moment touch-ups, smudged eyeliner, cracking foundation and eyeshadow creases! Faces Canada Ultime Pro Makeup Fixer spray sets in your makeup and ensures that you look fresh and hydrated even after hours of application.
Butter London Patent Shine 10X Nail Lacquer (https://nykaa.ly/P_843631): A 10-in-1 nail polish formula that delivers gel-like cushion and shine to promote brighter, stronger, healthier nails. This light pink shade – Molly Coddled is surely a mood uplifter for these gloomy weather days!