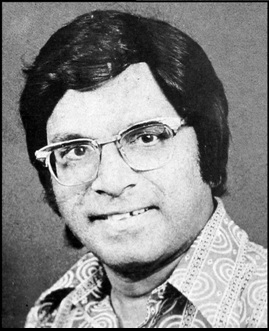 He had many firsts to his credit. The first Konkani-stage artist to present a Konkani show on the Mumbai Doordarshan, the first to compose songs, music, and produce an audio cassette in the Cantaram category, and the first to conceptualize, produce and present the first-ever Konkani musical show on the Konkani stage. He is none other than the Melody King of Goa – late Alfred Rose.
Born on August 5, 1932, and baptised as Rosario Alfred Fernandes, he is the son of Tiatrist Ambrose Fernandes and Dolarosa Fernandes, who hailed from the picturesque village Carona in Aldona. He was given the name Junior Rose by the Konkani Tiatrist C Alvares after Alfred made his Tiatr debut in 1943 when he was 11. Since 1950, he is better known by his stage name Alfred Rose.
He was one of the few educated Tiatrists who cleared the CAIIB (Banking professional examination) after SSC. Before moving to Citibank in the Gulf, he had a brief stint with National Overseas & Grindlays Bank Ltd and Larsen and Turbo.
He first appeared in Miss Ida's (Jose Mendes) drama, where he sang the solo song: kiteak jiv khatai. The well-known Konkani dramatist J P Souzalin, known for his plays on religious themes, introduced Alfred in his song: Poilea Cheddeachem Baltim.
There was a time when the status of Tiatrs was sinking. Alfred revived the Tiatr scene by composing and rendering educative and decent presentations. His first drama - Hench Tem Karann was staged in 1956. He introduced the concept of non-stop Konkani drama in 1961 with his presentation of Director Saib, which included twenty-seven songs relevant to the story of the drama, making its presentation look like a film. Besides producing the maximum number of Konkani songs long-play (LP) records with the music company His Master Voice in Mumbai, they had given him the title of Man with the golden voice.
Alfred made time to bring out two novels, Vingans Monte Christochem and Monis vo Devchar. If you wonder if any personality has published comics in Konkani, it is Alfred Rose. The book is entitled Zomnintli Bhirant. He has the distinction of publishing fourteen songbooks containing lyrics of his songs.
He produced and directed many Tiatrs, including Rogtak Tannelelo, Lakhpoti Nouro, Dotor Advogad, Bhangaracho Voti, Angounnechi Okol Munis vo Deuchar, Pessaumcar, Nirmon vo Formonn, Natalanchi Bhett, and the last being Somestancho Kumpar. With a love for Goa and his mother tongue, he wrote lyrics, rendered music, sang, and produced the maximum number of Konkani songs on the gramophone records, and produced about 40 audio cassettes on his own.
Alfred mostly composed and sang them in solos, duets, trios with various themes, often sung with his wife Rita and children. "Flowers" was the first song written and sung by Alfred in English. He was the first Tiatrist to record the English song: A Date with Daisy on a gramophone disc.
Alfred acted in the Konkani film Amchem Noxib in 1963, which has the English song I Lost my Heart to You, as his composition. He also rendered the music to the Konkani film Boglantt in 1975. Alfred also composed music for Bollywood films, including Love in Goa. He owned a band in the 1950s called Rosebuds, along with his brothers Marshall and Albert.
He reached out to the diaspora by performing in India and London, Paris, Frankfurt, and the Middle East. Donning a Panama hat and holding a magic baton in his hand, which were his trademark, he performed the opening chorus in Tiatrs. He also performed on All India Radio and Doordarshan. On the commemoration of 100 years of Tiatr, Alfred Rose was felicitated at Dinanath Mangeskar Kala Mandir at the hands of Shri Francisco Sardinha on April 24, 1993.
The coming together of Rita and Alfred Rose was nothing short of an act of God. Their contribution to Konkani music is unparalleled and cannot be ignored. For almost thirty-five years of their married life, they sang together, delighting audiences, savouring the shows, the songs, the bouquets, and the admiration. Alfred also wrote many romantic songs including Esta, Angela, Celina, Janet and Lynette, and others, but he sang one of his first love songs for Rita- Tuji mhoji bhett.
The talented Alfred Rose was instrumental in elevating the Konkani stage and music to the international level with his superb performances abroad where the Goans have migrated. After being asked why the Goa government did not honour him with the state award in one of the interviews, he retorted: "I did not produce Konkani music for awards. I did it because God blessed me with the talent and because of my love for Konkani." His last show was in Canada in 1999. He got his first heart attack in 2000. Even when he was in-and-out of the hospital, he composed music for the spiritual album which he had started before. On October 21, 2003, Alfred passed away at Mahim at the age of 71.
His musical spirit will forever live in the hearts of Goans the world over. The memories of the melodious songs of Alfred Rose played on All India Radio and Youtube linger on. May your voice continue to entertain the generations to come. See you in heaven.
(The author is a freelance writer)