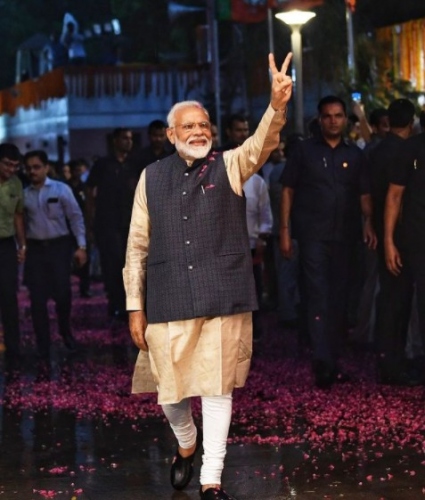 India is all set to become 'Vishwaguru', under the leadership of Prime Minister Narendra Damodardas Modi, who has assumed office since May 2014 and continuously striving to better our nation.
Modi, popularly known as Namo, has been the Chief Minister of Gujarat for thirteen years before he became the PM of India. Modi has seen many ups and downs in life but never deterred from his ideology and his path. A true nationalist in spirit, Modi has been trained in the Rashtriya Swayamsevak Sangh since his childhood and this has moulded him and made him the man he is today.
More than being a son to parents Hiraben and Damodardas Modi, or being a spouse to Jashodaben, Modi left home and family to devote his life to the betterment of the nation. He was active in the RSS cadre from childhood and later got involved in politics under the banner of the Bharatiya Janata Party, sacrificing his personal life to the country.
A post-graduate from Gujarat University, Modi is known to be the most honest, loyal, committed and devoted politician and a true nationalist.
As CM of Gujarat from 2001 to 2014, Modi proved his detractors wrong. Not contesting any election in his career as a politician, Modi was appointed as CM of Gujarat on October 3, 2001 – almost 20 years ago. Learning the nuance of administration and playing on the State political field successfully, he continued to be the Chief Minister until 2014, when he contested the election for the Prime Ministerial post from Varanasi and won the seat with a stunning majority. Modi became the Prime Minister of India in 2014, breaking all the previous records and proving all of his allies' predictions wrong. He is the first prime minister born after India's independence in 1947, the second non-Congress one to win two consecutive terms after Atal Bihari Vajpayee and the first from outside the Congress to win both terms with a majority in the Lok Sabha. He is the 14th Prime Minister of India and an MP from Varanasi. A member of BJP and its National Democratic Alliance (NDA), Modi is a member of Rashtriya Swayamsevak Sangh (RSS). Born on September 17, 1950, Modi would be completing 71 years.
Born and brought up in a small town in Gujarat – Vadnagar – he completed his secondary education there. As a child, Modi helped his father sell tea at the Vadnagar railway station and later ran a tea stall with his brother near a bus terminus.
The third among six siblings, he was introduced to RSS when he was just eight. He began attending its local shakhas (training sessions). There, Modi met Lakshmanrao Inamdar, popularly known as Vakil Saheb, who inducted him as a balswayamsevak (junior cadet) in the RSS and became his political mentor. While Modi was training with the RSS, he also met Vasant Gajendragadkar and Nathalal Jaghda, Bharatiya Jana Sangh leaders who were founding members of BJP's Gujarat unit in 1980.
Modi's teachers described him as an average student and a keen debater, with an interest in theatre. Modi had an early gift for rhetoric in debates, and his teachers and students noted this. Modi preferred playing larger-than-life characters in theatrical productions, which has influenced his political image.
Modi was married to Jashodaben, but his arranged marriage did not last long, and abandoning his bride, Modi left home at 18. Modi spent the ensuing two years travelling across Northern and North-eastern India, though few details of where he went have emerged. In interviews, Modi has described visiting Hindu ashrams founded by Swami Vivekananda: The Belur Math near Kolkata, followed by the Advaita Ashrama in Almora and the Ramakrishna Mission in Rajkot. Vivekananda has been described as a large influence in Modi's life.
In the early summer of 1968, Modi reached the Belur Math but was turned away, after which Modi wandered through Calcutta, West Bengal and Assam, stopping in Siliguri and Guwahati. Modi then went to the Ramakrishna Ashram in Almora, where he was again rejected, before travelling back to Gujarat via Delhi and Rajasthan in 1968–69. Sometime in late 1969 or early 1970, Modi returned to Vadnagar for a brief visit before leaving again for Ahmedabad. There, Modi lived with his uncle, working in the latter's canteen at the Gujarat State Road Transport Corporation.
In Ahmedabad, Modi renewed his acquaintance with Inamdar, who was based at the Hedgewar Bhavan (RSS headquarters) in the city. Modi's first known political activity as an adult was in 1971 when he joined a Jana Sangh satyagraha in Delhi led by Atal Bihari Vajpayee to enlist for the battlefield. But the Indira Gandhi led Central government disallowed open support to Mukti Bahini and Modi was put in Tihar Jail for a short period. After the Indo-Pakistani War of 1971, he stopped working for his uncle and became a full-time pracharak (campaigner) for the RSS, working under Inamdar. Shortly before the war, Modi took part in a non-violent protest against the Indian government in New Delhi, for which he was arrested; this has been cited as a reason for Inamdar electing to mentor him.
In June 1975, Prime Minister Indira Gandhi declared a state of emergency in India which lasted until 1977. During this period, known as the 'Emergency', many of her political opponents were jailed and opposition groups were banned. Modi was appointed general secretary of the Gujarat Lok Sangharsh Samiti, an RSS committee coordinating opposition to the Emergency in Gujarat. Shortly afterwards, the RSS was banned. Modi was forced to go underground in Gujarat and frequently travelled in disguise to avoid arrest. He became involved in printing pamphlets opposing the government, sending them to Delhi and organising demonstrations. Modi was also involved with creating a network of safe houses for individuals wanted by the government, and in raising funds for political refugees and activists. During this period, Modi wrote a book in Gujarati, Sangharsh Ma Gujarat (In The Struggles of Gujarat), describing events during the Emergency. Among the people, he met in this role was a trade unionist and socialist activist George Fernandes, as well as several other national political figures.
Modi became an RSS sambhag pracharak (regional organiser) in 1978, overseeing RSS activities in the areas of Surat and Vadodara, and in 1979 he went to work for the RSS in Delhi, where he was put to work researching and writing the RSS's version of the history of the Emergency. He returned to Gujarat a short while later and was assigned by the RSS to the BJP in 1985.
In 2001, Keshubhai Patel's health was failing and the BJP lost few State assembly seats in by-elections. Allegations of abuse of power, corruption and poor administration were made, and Patel's standing had been damaged by his administration's handling of the earthquake in Bhuj in 2001. The BJP national leadership sought a new candidate for the chief ministership, and Modi, who had expressed misgivings about Patel's administration, was chosen as a replacement. Although BJP leader L K Advani did not want to ostracise Patel and was concerned about Modi's lack of experience in government, Modi declined an offer to be Patel's deputy chief minister, telling Advani and Atal Bihari Vajpayee that he was "going to be fully responsible for Gujarat or not at all".
On 3 October 2001, he replaced Patel as Chief Minister of Gujarat, with the responsibility of preparing the BJP for the December 2002 elections. Modi was sworn in as Chief Minister on 7 October 2001, and entered the Gujarat state legislature on 24 February 2002 by winning a by-election to the Rajkot – II constituency, defeating Ashwin Mehta of the INC by 14,728 votes.
From 2001 to 2010 Gujarat recorded an agricultural growth rate of 10.97 per cent – the highest of any state. As chief minister, Modi favoured privatisation and small government, which was at odds with the philosophy of the RSS, usually described as anti-privatisation and anti-globalisation. His policies during his second term have been credited with reducing corruption in the state. He established financial and technology parks in Gujarat and during the 2007 Vibrant Gujarat summit, real-estate investment deals worth ₹6.6 trillion were signed.
The governments led by Patel and Modi supported NGOs and communities in the creation of groundwater-conservation projects. By December 2008, 5,00,000 structures had been built, of which 1,13,738 were check dams, which helped recharge the aquifers beneath them. Sixty of the 112 tehsils which had depleted the water table in 2004 had regained their normal groundwater levels by 2010. As a result, the state's production of genetically modified cotton increased to become the largest in India. The boom in cotton production and its semi-arid land use led to Gujarat's agricultural sector growing at an average rate of 9.6 per cent from 2001 to 2007. Public irrigation measures in central and southern Gujarat, such as the Sardar Sarovar Dam, were less successful. The Sardar Sarovar project only irrigated 4–6% of the area intended. The Modi government finished the process of bringing electricity to every village in Gujarat that its predecessor had almost completed. Modi significantly changed the state's system of power distribution, impacting farmers. Gujarat expanded the Jyotigram Yojana scheme, in which agricultural electricity was separated from other rural electricity; the agricultural electricity was rationed to fit scheduled irrigation demands, reducing its cost. Although early protests by farmers ended when those who benefited found that their electricity supply had stabilised, according to an assessment study corporations and large farmers benefited from the policy at the expense of small farmers and labourers.
In September 2013 Modi was named the BJP's candidate for prime minister ahead of the 2014 Lok Sabha election. During the campaign, Modi focused on the corruption scandals under the previous INC government and played on his image as a politician who had created a high rate of GDP growth in Gujarat. Modi projected himself as a person who could bring about development, without focusing on any specific policies. His message found support among young Indians and middle-class citizens. In addition to more conventional campaign methods, Modi made extensive use of social media and addressed more than 1,000 rallies via hologram appearances.
Modi was a candidate for the Lok Sabha in two constituencies: Varanasi and Vadodara. He won in both constituencies, defeating Aam Aadmi Party leader Arvind Kejriwal in Varanasi and Madhusudan Mistry of the INC in Vadodara by 5,70,128 votes. Modi, who was unanimously elected leader of the BJP, was appointed prime minister by India's president. To comply with the law that an MP cannot represent more than one constituency, he vacated the Vadodara seat.
The BJP won 31% of the vote, and more than doubled its tally in the Lok Sabha to 282, becoming the first party to win a majority of seats on its own since 1984. Voter dissatisfaction with the INC, as well as with regional parties in North India, was another reason for the success of the BJP, as was the support from the RSS. In states such as Uttar Pradesh in which the BJP performed well.
Modi took charge of the office of the Prime Minister of India, at South Block, in New Delhi on May 27, 2014.
On 13 October 2018, Modi was renamed as the BJP candidate for prime minister for the 2019 general election. The chief campaigner for the party was BJP's president Amit Shah. Modi launched the Main Bhi Chowkidar campaign ahead of the general election. Modi contested the Lok Sabha elections as a candidate from Varanasi. He won the seat by defeating Shalini Yadav of the Samajwadi Party, who fought on the SP-BSP alliance by a margin of 4,79,505 votes. Modi was unanimously appointed the prime minister for a second time by the National Democratic Alliance after the alliance won the election for the second time by securing 353 seats in the Lok Sabha while the BJP alone won 303 seats. Modi took the oath of office as the Prime Minister of India for the second time on May 30, 2019.