Garbage ghat
Uday Sawant / The Goan August 22, 2012
Picnickers visiting the picturesque picnic spot ghat leave garbage behind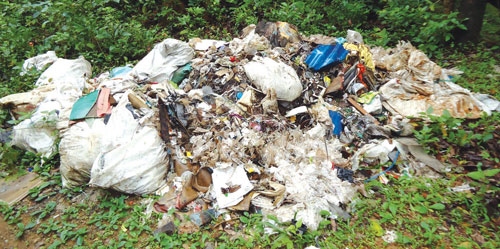 The monsoons bathe the breathtakingly beautiful Chorla ghats. But they also bring in its wake a different flood. Tourists from Karnataka and Maharashtra who do a very unfair trade off. They take in the beauty and leave behind their garbage- plastic packets, chicken bones, liquor and mineral water bottles.
This picnic spots dotted with little water falls and lovely woods is turning into a garbage dump
Last year more than a truck load of plastic waste was collected over a period of three days by Swami Vivekanand Paryavaran Jagruti Brigade. The Brigade conducted the same drive recently too. On learning about the nuisance caused by picnickers, the forest department has now decided to put restrictions in the area.
Additional Principal Conservator of Forest Richard D'Souza and former chief secretary of Goa Sanjay Srivastava visited the area recently. "Tourists who visit this part of the wildlife area should enjoy the ambience and also keep the area clean," D'Souza said.
Namdev Parodkar a volunteer of the Swami Vivekanand Awarness Brigade Keri, Sattari recently submitted a memorandum to Chief Minister Manohar Parrikar apprising him about the seriousness of garbage problem at Chorla ghat. He has urged the government to take immediate measures to stop the nuisance.
Since 1999, Chorla ghat was included in Mhadei wildlife sanctuary. Paresh Parab who is acquainted with the Mhadei wildlife sanctuary has plans to curtail garbage problems and nuisance created by tourists.
A well-known social worker and environmentalist Rajendra Kerkar disclosed that Chorla was a habitat for tigers and other herbivorous animals. The non-biodegradable garbage dumped in the area creates adverse effect on animals that are living in it, he added. He further stated that Vagueri is also a part of Chorla ghat, which is a beautiful hill station.
"The panchayat is bound to take steps to keep the area clean and look into the garbage problems at Chorla," said Jivbarao Rane, the sarpanch of Keri. A resolution to maintain cleanliness in areas around Chorla ghat was recently taken in a gram sabha, he added.