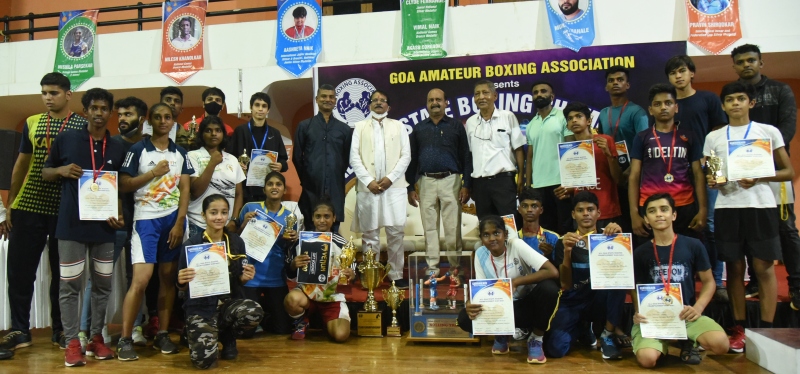 Photo Credits: GABA
PANAJI
Regional Coaching Centre (RCC) emerged as the champions ahead of second-placed Panjim Boxers Club (PBC) at the All Goa Boxing Championship organised by Goa Amateur Boxing Association at Peddem multi-purpose stadium.
The championship saw fresh faces win titles and secure a spot in the Goa Boxing League. Rohan Khaunte, the Porvorim MLA and the president of Goa Amateur Boxing Association (GABA), commended the organising team for conducting the tournament which saw the first bouts of boxing in Goa after the sport was forced to retreat after the Covid-19 disruption.
"The youngsters have been anxious enough to come out and box. The sub-junior category, junior category, youth category and the elite category, I believe, had good competition this time," Khaunte said. The GABA president said it was important that a state championship was held, wherein the boxers would get a platform again to showcase their talents. "It has been a sincere effort from the entire team and the managing committee to make sure the tournament was a success. I congratulate all the winners and the participants at the championship… Boxing has brought glory to the State and it is our duty to see that all of you get whatever support is required," Khaunte said.
Coach Chitambaram Naik said that resumption of boxing action was a much-needed boost for the Goan pugilists who were unable to train due to the Covid-19 induced curbs.
"When we got the permission to train our students, we tried our best so that we could train them very well for the championship," Naik said. "All the boxers should be dedicated, determined and they should have a strong aim that they have to win the medal for the State and for themselves," he added.