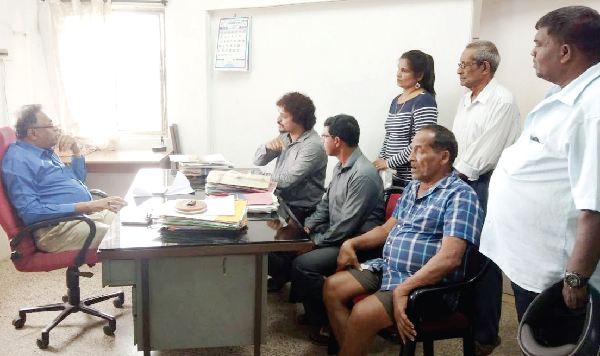 the goan I network
VASCO
A group of locals from Velsao, accompanied by Goenchea Raponkarancho Ekvott (GRE) members on Monday, submitted a memorandum to the Town and Country Planning (TCP) office at Vasco objecting to the technical clearance to a starred hotel proposed at Velsao.
Demanding immediate revocation of TCP's technical clearance to the project based on invalid CRZ and EC clearances, the delegation also claimed the project was proposed in no-development zone on an orchard area.
A villager, Camilo Souza, said the villagers had opposed the project as it would block access to the beach and would hamper traditional fishing activities.
"Once the hotel comes up, we will not have access to the beach and keep our nets. The TCP has granted technical clearance without even a site inspection," complained Souza.
GRE General Secretary and Velsao resident Olencio Simoes said the panchayat and other authorities had already taken action against the project proponents and villagers now expect the TCP department to take similar action.
"This proposed project is in gross violation of orders of the Chief Town Planner and a High Court order stating that the required road width should exist on the site at the time of the grant of technical clearance."
"Though the project proponent has falsely shown a 10-metre wide road as access in the application, the said width is less than 5 metres."
"We villagers demand that the TCP minister should intervene in this matter and immediately revoke clearance to the project proponents," Simoes added.