Scrutinized by first joint secretary-level committee, proposals for 2,500 posts have reached the main committee, but have been held up midway in the absence of chief minister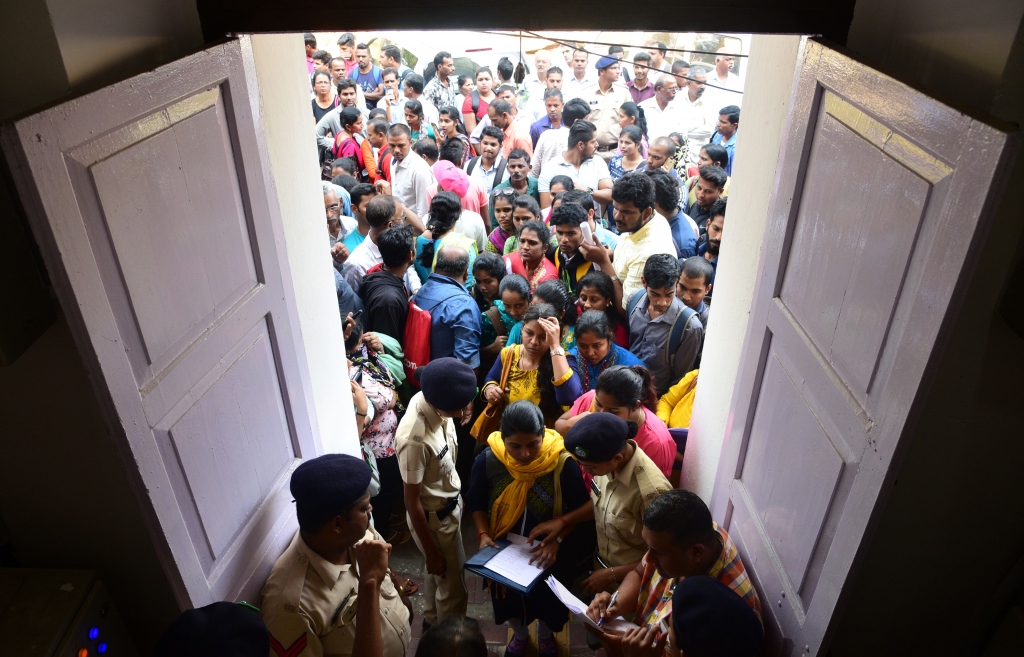 CAC NOT EMPOWERED
TO TAKE A DECISION
* Recruitments in government jobs are on hold ever since Chief Minister Manohar Parrikar took ill and proceeded to New York for advanced medical treatment
* Only Parrikar can authorise the recruitment of jobs and the Cabinet Advisory Committee (CAC) is not empowered to take any decision in this matter
* This halt has caused considerable anxiety among the unemployed youth, especially at a time when there are about 2,500 vacancies in various departments
--------------------------------------------------------------------------
JOBS APLENTY
>>
Proposals for 2,500 posts to be filled in various departments, including
FIRE DEPT
REVENUE
TOWN PLANNING
WOMEN & CHILD WELFARE
(
These proposals have been scrutinized by the first joint secretary-level committee but held up in the absence of the chief minister
)
------------------------------------------------------------------------------------
PANAJI: While religious services are underway for the speedy recovery of Chief Minister Manohar Parrikar, many are also praying for his early return to the State with the hope that his arrival would resume a key process which has come to an abrupt halt.
Finding a government job is now virtually impossible for thousands of youth who are now left in the lurch, as the process to fill recruitments to government jobs has been held up midway.
The recruitments in government jobs have been kept on hold ever since Parrikar took ill and proceeded to New York for advanced medical treatment.
What has halted the recruitment process is the fact that only Parrikar can authorise the recruitment of jobs in the government and the Cabinet Advisory Committee (CAC) is not empowered to take any decision in this matter.
This halt has caused considerable anxiety among the unemployed youth, especially at a time when there are about 2,500 vacancies in various departments.
Providing employment to locals has been a key issue challenging the BJP.
In 2016, the previous BJP-led coalition government had halted job recruitments but the decision to remove this barrier was taken shortly after the new BJP-led government was formed after the 2017 assembly polls.
The recruitment process was revised to make the recruitment in government jobs faster and easier.
Under the revised method, all departments were invited to send in their proposals for recruitments to the government each year.
A committee of joint secretaries of administrative, personnel and finance department was set up to scrutinise these proposals.
These final proposals would then reach the main committee of secretaries, headed by the chief minister, where it would be finalised and later sent to departments concerned to initiate the recruitment process.
The procedure was started after the state cabinet approved the proposal.
There are proposals for 2,500 posts to be filled in various departments, including the fire department, revenue, town planning, women and child welfare etc.
These proposals have been scrutinized by the first joint secretary-level committee and these proposals have reached the main committee, but have been held up midway in the absence of the chief minister.
A large number of anxious youth in search of government jobs have been frequently visiting their legislators hoping for a solution in sight and these leaders have been confronted with the unpleasant task of explaining the entire situation.
------------------------------------------------------------------------------------------------

Pvt companies go outside Goa
yet again, inviting job seekers
PANAJI:
Despite pharma major Cipla having faced the heat for organizing recruitment drives outside the state, it has not deterred them and twenty-four other Goan companies from taking part in a recruitment drive organised by the Maharashtra Government on Wednesday at Sawantwadi.
A job fair organised by the Maharashtra Government's Skill Development Employment and Entrepreneurship Department saw companies from Goa -- including prominent names like Cipla Ltd, Manipal Hospitals, Zuari Industries, Pai Kane Group, Bosch, Chowgule Industries, Sai Service, Counto Automobiles, Deltin Group, Bogmalo Beach Resort, Alcon Victor Group, Fort Aguada Resort, CMM Group, Magsons Group, and others all taking part.
More than 650 vacancies in Goa alone were up for grabs at the job fair on Wednesday with the posts typically requiring either Std XII pass or in the case of pharmaceutical industries a graduation degree in the subject. The posts included jobs in sales, the hospitality sector, security, housekeeping, mechanics, customer care software developers and technicians and others.
It was in September last year that the Goa Forward, a crucial coalition partner in the current BJP led government had taken offence to companies in Goa advertising and recruiting persons from outside Goa especially in the districts neighbouring Goa.
Goa Forward had denounced the move of pharmaceutical firm Cipla based in Verna Industrial Estate to publish an advertisement for jobs in Karnataka. Chief spokesperson of Goa said that the party took a serious note of the matter and termed it anti-Goa act.
TCP minister Vijay Sardessai then took up the matter with Chief Minister Manohar Parrikar in this regard requesting him to direct the pharma company to advertise vacancies in Goa and give preference to Goans.
ness
The sight of the names of prominent Goan businesses participating in the job fair at Sawantwadi has raised eyebrows with locals blaming such job fairs for local job seekers being denied jobs in their own homeland.
The previous job fair to be organised was done in Fatorda, incidentally by the Goa Forward party where several Goan business houses participated.
The rush of Goan companies to employ staff from the neighbouring states flies in the face of Government's claims that it is adequately incentivizing local industries to employ Goans even with the promise of a salary rebate on the staff employed.
"If Goan youth do not get jobs in Goan industries, people will start questioning why we are allowing such industries in Goa," Vijai Sardesai was quoted as saying last year.
Sardesai had even condemned the attitude of Cipla for advertising in other states for vacancies in their Goa factory and had demanded an apology from the management.