Linguistic diversity of India highlighted at World Day for Cultural Diversity for Dialogue and Development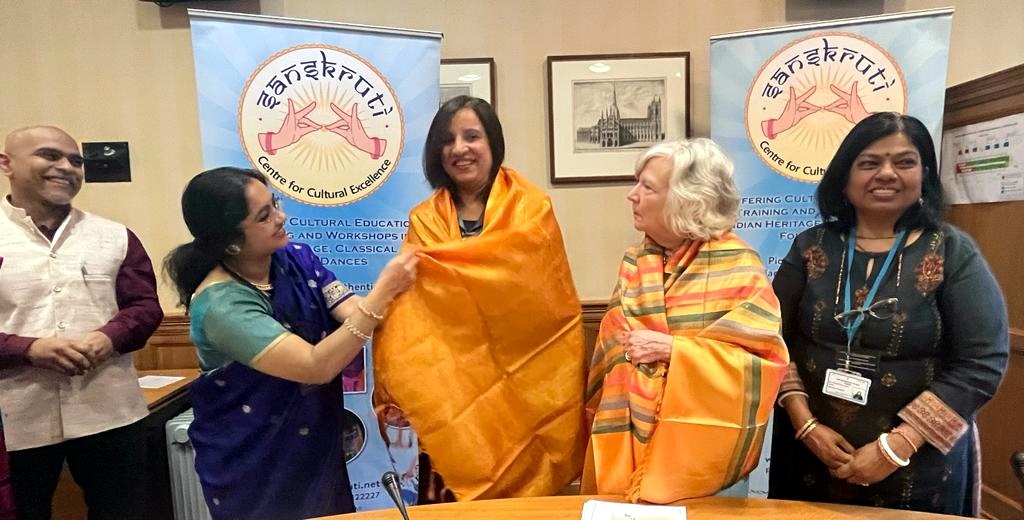 THE GOAN NETWORK | LONDON
A Konkani poem was recited for the very first time at a cultural diversity event at the British Parliament on May 24, when 18 languages were presented and highlighted at the House of Lords marking the World Day for Cultural Diversity for Dialogue and Development.
The event was organised by Sanskruti Centre for Cultural Excellence in association with the All Party Parliamentary Group (APPG) on Modern Languages supported by the Chartered Institute of Linguists.
'Magnnem', the famous poem by Dr Manoharrai Sardessai, was recited by Dr Bernadette Pereira, Consultant Oncoplastic Breast Surgeon at North Middlesex University Hospital in London.
When contacted, Dr Pereira said she chose the poem 'Magnnem' (Prayer) because it is a short and sweet poem that gives a perspective of simplicity.
"It is a prayer asking God for simple things in life: A seat to sit on and a Banana leaf to eat on. A pure heart and a selfless spirit. But most of all, my village to be proud of me," said Dr Pereira.
"Dr Manoharrai Sardessai was a very famous Goan writer, poet and academic who won several laurels for his work in Konkani and French at the national and international level. He worked tirelessly for the development and recognition of Konkani," said Dr Pereira, who traces her roots to Benaulim, Goa.
"I thanked the Founder of Sanskruti Centre Ragasudha Vinjamuri for giving me the opportunity to take my mother tongue Konkani to the Houses of Parliament and allowing me to fly the Konkani flag high. Konkani is the official language of Goa which has dwindling numbers of people who speak it. This event would serve as an inspiration to all the Goenkars to be proud of their language, their heritage and to propagate it worldwide," she added.
Dr Pereira said she received a great response to her poem and to the fact that she was from Goa.
"Goa is really a popular State to the rest of India who look upon it dearly, which was reflected by the introduction I got before the recitation and applause I got after," she said.
Founder of Sanskruti Centre, Dr Ragasudha Vinjamuri, who spoke about the importance of languages and scripts, said the recitation of Konkani poem at a cultural diversity event at the British Parliament was, perhaps, for the very first time.
"This is a proud milestone for the Konkani community," said Vinjamuri.
Poems, mostly self-authored by the diaspora members in the UK, were presented in Sanskrit, Assamese, Bengali, Dogri, Gujarati, Hindi, Kannada, Kashmiri, Konkani, Maithili, Malayalam, Marathi, Odiya, Punjabi, Sindhi, Telugu and Nepali.
Also highlighted were some of the scripts such as Takri, Sharda, and Mithilakshar.
Parliamentary host Baroness Garden of Frognal emphasised the importance of languages and lauded the organisers for bringing together meaningful content.
Dr Nandita Sahu, Attaché (Hindi & Culture) at the High Commission of India in London delivered the concluding remarks.