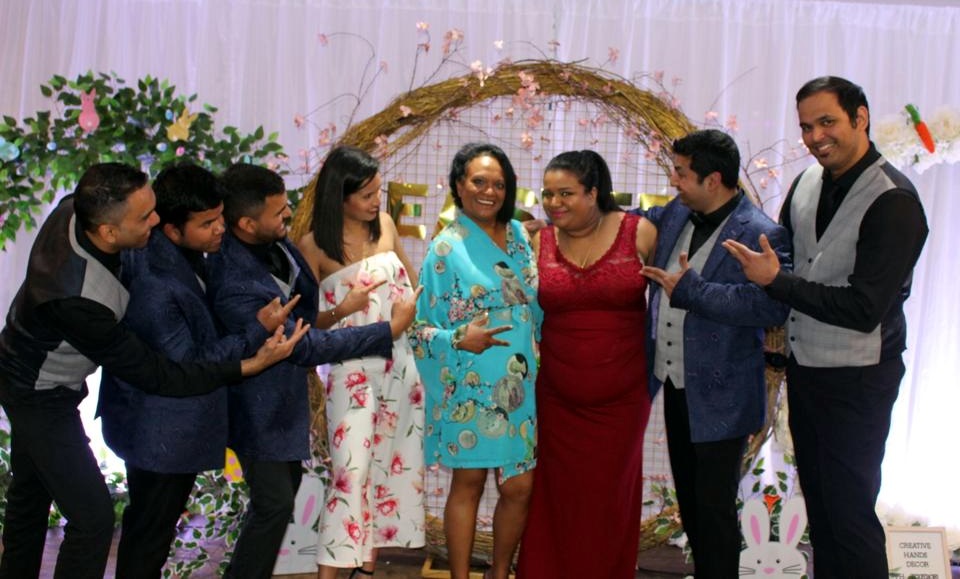 Our journey into "private" Goan social hosting began after my grandson's Christening in October 2021, and with the effects of feeling good after meeting up with friends and family post-lockdown, my daughter Serena and I were sitting at her dining table in South-East London and got talking about the lack of South/South-East Christmas Eve events in December 2021.
Although complete novices in event planning, this is how my role in this new project began as a facilitator to support, fund and drive the Youth team in the future of reviving local events.
The team's first small-sized attempt was to host a New Year's Day 2021 event in Woolwich, which sadly had to be cancelled due to poor attendance and people's fear of Covid.
However, I will never forget the words of encouragement from one lady from Forest Hill, who was willing to travel all the way to Woolwich for the event. She told me to not give up!
Powerful words when you're feeling deflated after cancelling an event. Armed with these words of encouragement, my job role in strategic planning and a natural networker, how hard can it be?
This gave me the zeal to carry on and put in motion plans to host a bigger Easter Day 2022 event in Croydon. I can recall how nerve-racking it was to begin to plan a Goan social event, so many variables to consider. They say it takes a village to raise a child but when you have no village, it was both a scary and lonely journey to raise this child! I had approached other established Goan Associations to collaborate, but no one was interested. I searched and eventually sourced a venue, secured Treblemakers Band (lead singers are local to South-East London), my son-in-law did the catering, hired in a mobile bar service, and commissioned Creative Hands Décor to create an Easter-themed display – see pics. Serena and her two cousins (the Youth team) hosted the event and although we didn't get a huge crowd, the people who attended really enjoyed the opportunity to gather to meet up with friends and family and dance to great music.
By the grace of God, our second Easter Monday 2023 Dine and Dance has been planned more effortlessly with lessons learnt from our first Dance. We have secured an easily accessible venue, booked sought-after musicians and emcee, and worked with the in-house caterers who have gone over and above to partner with Bernie's Catering to provide authentic Goan cuisine.
I have lived in the UK for over 40 years and from my teenage years to pre-Covid, I regularly enjoyed going to various dances around South/South-East London; the last dance my family group of 12 attended was in North London in December 2019. Sadly, after Covid, these Goan events lost traction and the voices for socials were ignored.
Serena and her family are fully invested in raising their young son immersed in his culture by attending Goan functions.
I have the greatest admiration for the new entrepreneurial Goans who have made the UK their home whilst continuing to keep the Goan tradition and culture alive. I try to support them whenever I can. They are dynamic and actively promote Goan social events in and around West London, Swindon, and Southampton.
The Summer events at Cranford Community School have always been a favourite of mine for meeting up with long-lost friends, along with the music and food. I have many fond memories of attending and even participating in, dancing with the cultural Portuguese-Goan Lancers!
Sadly, in 2022 GOA Association UK posted on Facebook that they would not be holding the annual event due to Covid. However, to our joy, new event organisers Ultrasonic Events "Goan Cultural Fest UK" hosted a phenomenal event with huge crowds, an assortment of food and drink stalls and an excellent line-up to entertain (Lorna!). It was a memorable friends and family day out.
Serena's Youth Team and I are not trying to trailblaze in the events arena, we are simply wanting to facilitate for like-minded Goans in South/South-East London to get together, eat, drink, dance and socialise with family and friends and keep our culture alive. Therefore, it is so important for fellow local Goans to support us when we host our yearly Easter Dance and other events in their locality.
In our second year of advertising in Goan Voice UK, the outreach I have come to understand which stresses the importance of these local Goan events, are people keen for socialising, who previously were isolated during Covid restrictions, those that want local gatherings because they have travel limitations, matchmakers promoting their services and singles who are looking to meet other single Goans organically rather than online.
I met my husband 33 years ago at a Boxing Day event at Hammersmith Palace and he travelled from Hounslow to meet me at Woolwich New Year's Eve dance in 1988. That is the power of singles meeting up. Where else do young, single people gather in one place and meet their own culture with music, food, and dance? I am very mindful of the preservation of my culture and tradition for my children and grandson. We should all feel proud of our heritage and protect it in all aspects not just on the peripherals of name and origin.
(The writer was born in Kenya and moved to South-East London as a teenager in 1982. During her first 4 years of marriage, she lived in Hounslow then moved to Bedfordshire, Buckingham and now Northamptonshire. She currently works for Network Rail in Strategic Access Planning)