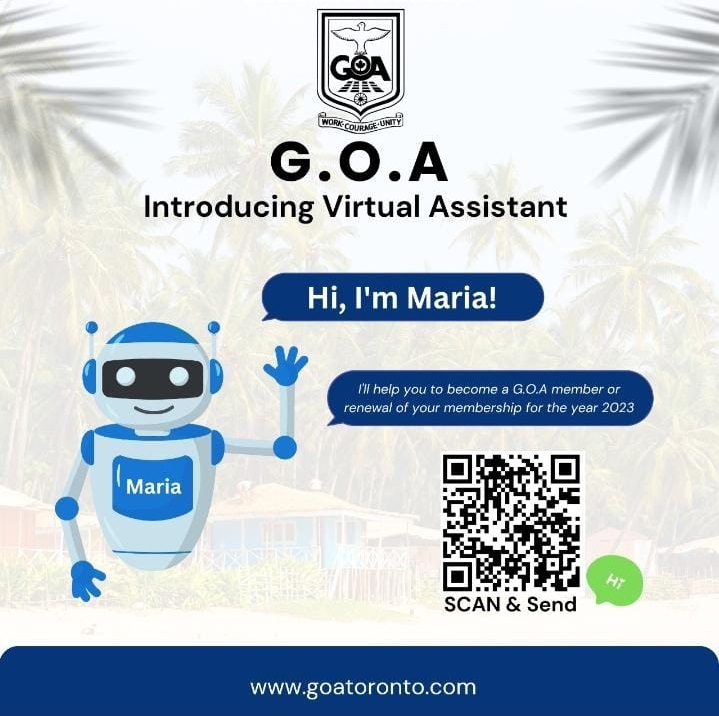 In a first of its kind, the Goan Overseas Association (GOA) of Toronto has launched its virtual assistant 'Maria' to help its members with their membership renewals and also to register new members.
When contacted, GOA Toronto President Selwyn Collaco said the G.O.A. is most likely the first Goan community-based association embarking on a digital transformation by implementing a chatbot solution "chat360", in partnership with Microtech Digital Solutions.
Explaining the purpose of setting up their 'Maria' virtual assistant, Collaco said: "One of the biggest challenges for the G.O.A. over the years has been the renewal of membership. Membership is a key revenue line item that helps the organisation with some of its fixed costs. There was a time, whereby the organised events would help cover these costs."
"Today, it is a different game given now we have a physical facility (The Goan Community Centre) that our community can call home. As a result, our fixed costs have increased a lot more than in previous years, and now we need to get innovative to get our members to renew their membership and also onboard new members seamlessly."
Collaco said the Chat360 product was first conceived as a way to automate mundane tasks and provide a more efficient and personalised experience.
"Today, Chatbots are becoming increasingly sophisticated, using artificial intelligence and natural language processing to understand user requests and respond with relevant information. Eventually, we will also start providing information on our upcoming events and ticket purchases through Maria."
He adds that: "'Maria' can only do so much and at the end of the day, the decision making on signing up or renewing membership resides in the hands of our community members, they need to be proud about contributing and investing in the future of our community. It is no longer about what I can get in return but about how can one invest and sustain the future of our community."
Asked about the salient features of 'Maria' Virtual Assistant, Collaco said: "'Maria' can help sign up for new membership or renew membership in less than 3 minutes."
"However, 'Maria' can do a lot more for our members. The plan is to have Maria eventually help our community to answer questions they may have, provide upcoming event information, and accept donations in addition to purchasing event tickets."
To chat with 'Maria', members can visit https://tinyurl.com/2mv5pvy3 or on WhatsApp: https://tinyurl.com/2frhky24 and this service is available 24/7.