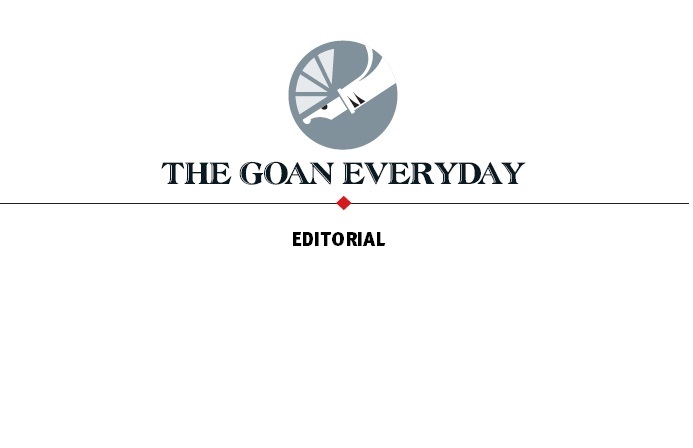 Picture‌ ‌this:‌ ‌Tourists‌ ‌coming‌ ‌to‌ ‌Goa‌ ‌to‌ ‌operate‌ ‌a‌ ‌fake‌ ‌currency‌ ‌racket,‌ ‌some‌ ‌engaging‌ ‌in‌ ‌gambling,‌ ‌narcotics‌ ‌trade‌ ‌and‌ ‌some‌ ‌running‌ ‌amok‌ ‌with‌ ‌SUVs‌ ‌on‌ ‌beaches.‌ ‌This‌ ‌has‌ ‌been‌ ‌the‌ ‌horrid‌ ‌image‌ ‌of‌ ‌tourism‌ ‌along‌ ‌the‌ ‌north‌ ‌Goa‌ ‌coast‌ ‌lately.‌ ‌While‌ ‌the‌ ‌State‌ ‌is‌ ‌mourning‌ ‌Covid‌ ‌deaths‌ ‌and‌ ‌trying‌ ‌to‌ ‌seize‌ ‌control‌ ‌of‌ ‌the‌ ‌situation,‌ ‌the‌ ‌coastal‌ ‌belt‌ ‌is‌ ‌turning‌ ‌into‌ ‌a‌ ‌hotspot‌ ‌for‌ ‌tourists‌ ‌for‌ ‌nefarious‌ ‌activities‌ ‌in‌ ‌the‌ ‌guise‌ ‌of‌ ‌a‌ ‌holiday.‌ ‌Fake‌ ‌currency‌ ‌of‌ ‌Rs‌ ‌3‌ ‌lakh‌ ‌was‌ ‌seized‌ ‌earlier‌ ‌this‌ ‌week‌ ‌at‌ ‌a‌ ‌Calangute‌ ‌hotel‌ ‌owned‌ ‌by‌ ‌a‌ ‌prominent‌ ‌Bollywood‌ ‌star.‌ ‌Around‌ ‌11‌ ‌tourists,‌ ‌including‌ ‌a‌ ‌minor,‌ ‌were‌ ‌arrested‌ ‌at‌ ‌the‌ ‌site.‌ ‌A‌ ‌day‌ ‌prior,‌ ‌42‌ ‌persons,‌ ‌mainly‌ ‌businessmen‌ ‌hailing‌ ‌from‌ ‌Gujarat,‌ ‌Maharashtra‌ ‌and‌ ‌Delhi‌ ‌who‌ ‌had‌ ‌
descended‌ ‌on‌ ‌the‌ ‌sunny‌ ‌state‌ ‌for‌ ‌a‌ ‌holiday‌ ‌were‌ ‌arrested‌ ‌for‌ ‌gambling‌ ‌in‌ ‌a‌ ‌hotel‌ ‌in‌ ‌Calangute.‌ ‌Cash‌ ‌of‌ ‌over‌ ‌Rs‌ ‌10‌ ‌lakh,‌ ‌gambling‌ ‌chips‌ ‌valued‌ ‌at‌ ‌nearly‌ ‌60,000,‌ ‌card-swipe‌ ‌machines‌ ‌and‌ ‌mobile‌ ‌phones‌ ‌were‌ ‌seized.‌ ‌In‌ ‌another‌ ‌incident‌ ‌on‌ ‌Monday,‌ ‌a‌ ‌group‌ ‌of‌ ‌Punjabi‌ ‌tourists‌ ‌was‌ ‌seen‌ ‌engaged‌ ‌in‌ ‌rash‌ ‌driving‌ ‌with‌ ‌their‌ ‌rented‌ ‌vehicles‌ ‌at‌ ‌Arambol‌ ‌beach‌ ‌throwing‌ ‌the‌ ‌lives‌ ‌of‌ ‌locals‌ ‌strolling‌ ‌on‌ ‌the‌ ‌beach‌ ‌at‌ ‌risk.‌ ‌The‌ ‌question‌ ‌is,‌ ‌why‌ ‌do‌ ‌tourists‌ ‌prefer‌ ‌Goa‌ ‌as‌ ‌a‌ ‌getaway‌ ‌destination?‌ ‌This‌ ‌only‌ ‌goes‌ ‌to‌ ‌suggest‌ ‌that‌ ‌that‌ ‌the‌ ‌State‌ ‌has‌ ‌failed‌ ‌to‌ ‌set‌ ‌a‌ ‌deterrent‌ ‌to‌ ‌criminals‌ ‌and‌ ‌rogue‌ ‌tourists‌ ‌while‌ ‌selling‌ ‌cheap‌ ‌tourism‌ ‌focused‌ ‌on‌ ‌gambling,‌ ‌alcohol,‌ ‌drugs,‌ ‌sex,‌ ‌sleaze‌ ‌and‌ ‌nightlife.‌ ‌The‌ ‌new‌ ‌SOPs‌ ‌have‌ ‌allowed‌ ‌free‌ ‌movement‌ ‌across‌ ‌borders,‌ ‌and‌ ‌with‌ ‌tourism‌ ‌given‌ ‌a‌ ‌grand‌ ‌reopening‌ ‌in‌ ‌wild‌ ‌hope‌
of‌ ‌raking‌ ‌in‌ ‌some‌ ‌moolah,‌ ‌there‌ ‌should‌ ‌have‌ ‌been‌ ‌tighter‌ ‌surveillance.‌ ‌A‌ ‌heightened‌ ‌law‌ ‌and‌ ‌order‌ ‌arrangement‌ ‌had‌ ‌to‌ ‌be‌ ‌in‌ ‌place‌ ‌given‌ ‌the‌ ‌situation‌ ‌at‌ ‌hand.‌ ‌
With‌ ‌the‌ ‌turn‌ ‌of‌ ‌events,‌ ‌it‌ ‌only‌ ‌goes‌ ‌to‌ ‌show‌ ‌that‌ ‌tourists‌ ‌have‌ ‌learnt‌ ‌to‌ ‌work‌ ‌their‌ ‌way‌ ‌into‌ ‌the‌ ‌system,‌ ‌as‌ ‌much‌ ‌as‌ ‌they‌ ‌know‌ ‌their‌ ‌business‌ ‌plan‌ ‌while‌ ‌in‌ ‌Goa.‌ ‌The‌ ‌northern‌ ‌coastal‌ ‌belt‌ ‌which‌ has‌ ‌been‌ ‌the‌ ‌hub‌ ‌of‌ ‌Goa's‌ ‌tourism‌ ‌has‌ ‌become‌ ‌the‌ ‌epicentre‌ ‌of‌ ‌illegal‌ ‌activities.‌ ‌From‌ ‌night‌ ‌drug‌ ‌
parties‌ ‌to‌ ‌gambling‌ ‌and‌ ‌now‌ ‌fake‌ ‌currency,‌ ‌crime‌ ‌has‌ ‌gone‌ ‌unabated‌ ‌even‌ ‌in‌ ‌the‌ ‌time‌ ‌of‌ ‌Covid,‌ ‌and‌ ‌that‌ ‌is‌ ‌unfortunate.‌ ‌The‌ ‌raids,‌ ‌seizures‌ ‌and‌ ‌arrests‌ ‌may‌ ‌have‌ ‌helped‌ ‌the‌ ‌police‌ ‌to‌ ‌score‌ ‌a‌ ‌few‌ ‌brownie‌ ‌points,‌ ‌but‌ ‌it‌ ‌xposes‌ ‌the‌ ‌dark‌ ‌underbelly.‌ ‌There‌ ‌is‌ ‌no‌ ‌deterrent‌ ‌for‌ ‌tourists‌ ‌who‌ ‌walk‌ ‌in‌ ‌with‌ ‌shady‌ ‌agendas.‌ ‌
An‌ ‌analogy‌ ‌could‌ ‌be‌ ‌drawn‌ ‌to‌ ‌the‌ ‌cold-blooded‌ ‌murder‌ ‌of‌ ‌Jeweller‌ ‌Swapnil‌ ‌Walke‌ ‌where‌ ‌an‌ ‌assailant‌ ‌walked‌ ‌into‌ ‌his‌ ‌shop‌ ‌and‌ ‌shot‌ ‌him‌ ‌straight,‌ ‌no‌ ‌questions‌ ‌asked.‌ ‌There's‌ ‌no‌ ‌fear‌ ‌of‌ ‌consequences.‌ ‌It‌ ‌reflects‌ ‌poorly‌ ‌on‌ ‌law‌ ‌and‌ ‌order.‌ ‌With‌ ‌Goa‌ ‌grieving‌ ‌in‌ ‌Covid‌ ‌pain,‌ ‌instances‌ ‌such‌ ‌as‌ ‌these‌ ‌make‌ ‌a‌ ‌complete‌ ‌mockery‌ ‌of‌ ‌our‌ ‌law‌ ‌and‌ ‌order‌ ‌and‌ ‌the‌ ‌establishment.‌ ‌There‌ ‌have‌ ‌been‌ ‌persistent‌ ‌voices‌ ‌from‌ ‌industry,‌ ‌stakeholders‌ ‌and‌ ‌even‌ ‌some‌ ‌in‌ ‌the‌ ‌political‌ ‌class‌ ‌that‌ ‌Goa‌ ‌needs‌ ‌to‌ ‌redefine‌ ‌its‌ ‌tourism.‌ ‌What‌ ‌we‌ ‌continue‌ ‌to‌ ‌
Turn on screen reader support