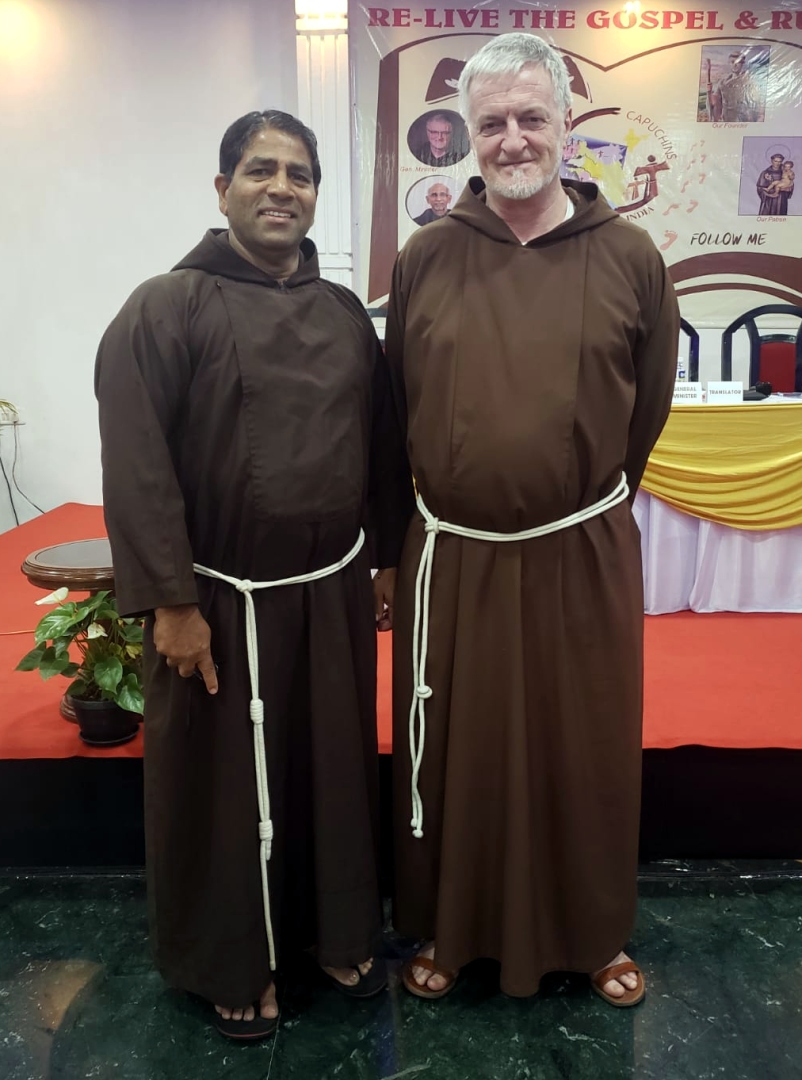 PANAJI
Fr Steve Rodrigues has been elected the new provincial of the Franciscan Capuchin Province of Goa.
Fr Rodrigues was elected during the ongoing Elective Chapter of the Franciscan Capuchin province of Goa at Monte de Guirim from April 24 to April 28. The General Minister of the Franciscan Capuchin, Fr Roberto Genuin (head of the Capuchin Order in the world), also arrived from Rome to attend the Elective Chapter.
On April 24, Filipe Neri Cardinal Ferrao celebrated the Eucharist for the Capitulars and preached an inspiring homily, setting the right tone for the Provincial Chapter. The theme of the Chapter is 'Re-Living the Gospel and the Franciscan Rule'.
The main aspect of the chapter is the election of a provincial (head of the Capuchins), besides discussions and deliberations on the life of Capuchins.
In the election on April 25, Fr Steve Rodrigues was declared elected in the first scrutiny itself. He has four councillors to assist him: Fr Gabriel Fernandes, Fr Seville Antao, Fr Kennedy Menezes and Fr Agnelo Fernandes.
Fr Rodrigues hails from Dramapur (Zamcotto) and was ordained priest on April 26, 1994. Soon after ordination, he was appointed the boarding director of St Anthony Boarding Home, Monte de Guirim for 6 years.
He then went to Rome for higher studies. He has a licentiate in systematic theology from Gregorian University, Rome.
Fr Rodrigues returned from Rome in 2003 and held various responsibilities: superior, principle of St Anthony High School, Monte de Guirim, Assistant at Revora Church and Manager of Our Lady of Victory Primary School, Revora.
He taught theological subjects in Bangalore and Elluru (AP) theologates for many years, besides teaching at other religious institutes.
Fr Rodrigues was elected twice as vice-provincial (2005-2008 and 2008-2011). He worked hard with commitment and dedication to raise the Goa vice-province to a full-fledged province. His efforts bore fruit, when Fr Mauro Johri, Minister General from Rome, came to Goa and nominated Fr Steve as the First Provincial of Goa Capuchins in 2011.
Fr Rodrigues always found himself elected by the Capuchins, as the Councillor of the provincial team. His last appointment was at St Francis of Assisi Friary and Seminary, as superior and director of the Postulants at Ordhofond, Canacona.
He loves preaching, youth ministry, music and football. He has travelled to many European countries, Australia, USA for ministry and other works.