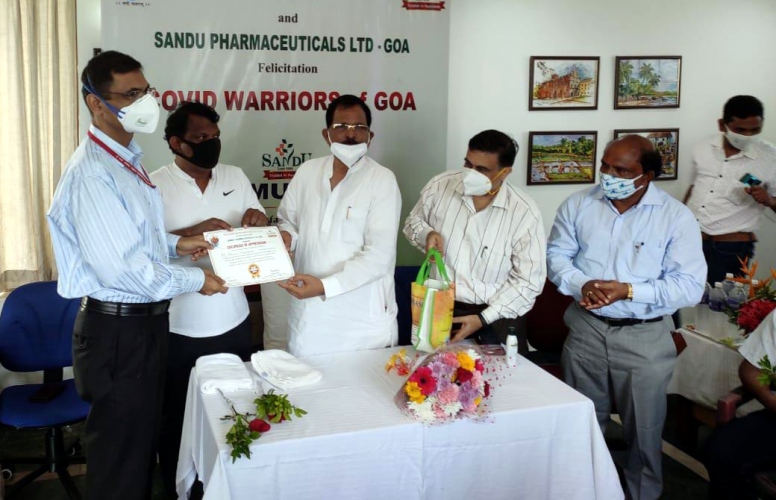 MAPUSA
Lauding the efforts of doctors and the support staff during the Covid times, Union Minister of State for AYUSH, Shripad Naik on Saturday said doctors and the medical staff have worked day and night, at times even putting their own life at risk.
"No one has seen doctors and medical staff work as closely as I have done. For almost a month, I have watched the Covid Warriors working for more than 12 hours without a wink. Many times, they put their own life at risk, without thinking about their family and home. I salute them," said Naik, who had tested positive for coronavirus and underwent treatment in a private hospital.
The Union Minister of State for AYUSH was addressing a gathering during the felicitation of Covid Warriors – doctors and support staff – belonging to the Calangute Covid Care Centre.
Ports Minister and local MLA Michael Lobo, Health Officer of Candolim PHC Dr Roshan Nazareth, officials of Sandu Pharmaceuticals and other dignitaries were also present.
Continuing, Naik said the government of India with Prime Minister Narendra Modi has taken several steps to minimise the impact of Covid-19 in the country, but no one can take away the contribution of Covid Warriors.
"The way you have worked is praiseworthy. People of Goa will never forget your selfless contribution in times of the pandemic. That is why we decided to meet and felicitate the doctors and medical staff in different areas," he said.
He said now the death rate was dropping and admission of Covid positive patients have also declined but work done by Covid Warriors was priceless and they need to be felicitated for their contribution towards the society.
Around 70 people including doctors, nurses, staff attached to the Calangute Residency and others were felicitated on the occasion.
Every Covid Warrior was handed over a certificate of appreciation and immunity boosting kit sponsored by the Sandu Pharmaceuticals.
Ports Minister, Michael Lobo said all the doctors have done excellent work during the pandemic. He said the other staff who were cleaning the rooms and carrying out sanitisation have also put in hard work. "The garbage collectors and even the drivers of ambulances and 108 ambulances have also worked tirelessly to do their bit during the Covid crisis," Lobo said.
Health Officer of Candolim PHC Dr Roshan Nazareth informed that from beginning till now around 1,040 patients were admitted in the Calangute Covid Care Centre, of which 30 were referred for further treatment.