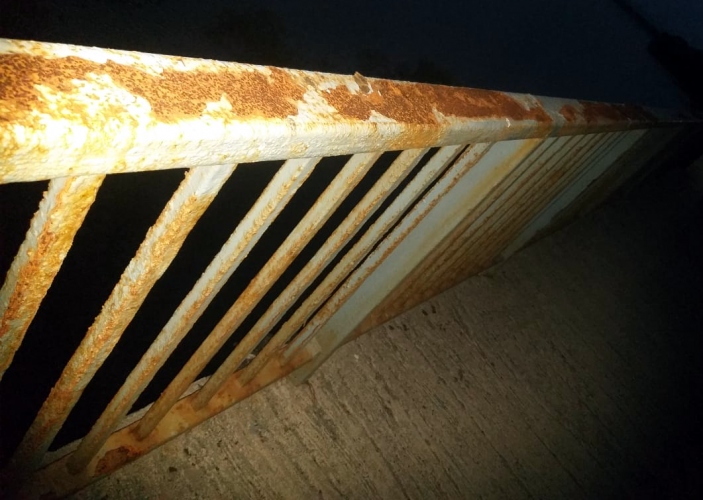 Photo Credits: Kathy Fernandes
CANACONA
Within barely 15 months, the protective railing on the three bridges along the Manohar Parrikar Canacona Bypass have been corroded, prompting the contractor to take up re-painting of the railings with a fresh coat of anti-corrosive paint.
Residents on their daily walk along the twin bridges were alarmed to notice the corroded protective railing on either sides of these bridges on rivers Talpona and Galgibaga.
Walking tracks provided on the picturesque Galgibaga-Maxem bridge and the Talpona bridges on the Manohar Parrikar Canacona Bypass NH66 have attracted many people for morning and evening strolls.
The walking tracks are also being used by many residents at Galgibaga and Maxem to cross over to the other side.
Incidentally, the protective railings had been coated with an anti-corrosive paint before the bridges and the Manohar Parrikar Canacona Bypass was inaugurated on November 29, 2019.
When contacted, PWD (Highway) Assistant Engineer Subhash Pagui confirmed the corrosion on the protective railing on the Talpona and Galgibaga-Maxem bridges on the Manohar Parrikar Canacona Bypass.
"The contractor is already apprised of the situation and has even begun repainting of corroded railings at Talpona Bridge with an even stronger anti-corrosive substance," said Pagui.
"The corrosion seems to have caught sooner due to high salinity in close coastal areas. The re-painting with anti-corrosive paint is being done under the maintenance by contractor."
"Soon, the bridge railings on the Galgibaga-Maxem bridge will also be taken up after completion of repainting of Talpona Bridge," Pagui said.
The prestigious 7.7 km long Manohar Parrikar Canacona Bypass Highway-66, which has three bridges on the rivers Talpona, Galgibaga and Maxem Creek, 6 underpasses and cuts down the distance between Canacona and Loliem by about 14 km, was constructed at a cost of Rs 294 crore.