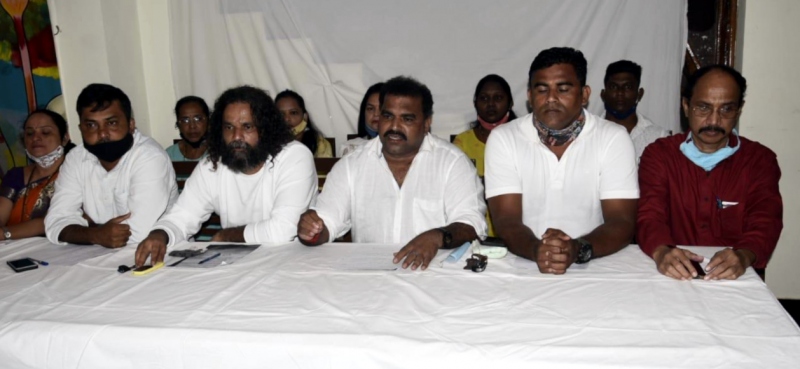 Photo Credits: Vikram Nayak
VASCO
Members of the 'Murgaoncha Raja' group on Wednesday appealed to people to come forward and save the Murgaoncha Raja shed at Sada-Vasco, used for social, sports and religious activities, after the Supreme Court upheld the high court's order to demolish the structure.
While also appealing to the State government to avoid demolishing the shed as it would hurt religious sentiments, they alleged the role of a politician in seeking the demolition of the shed for political agenda.
"We appeal to people to come forward and save the shed from being demolished as many have offered prayers at the shed during Ganesh Chaturthi or participated in various sports and cultural events held there," said Suraj Chodankar alias Balan, during a news conference.
"The shed had been existing for over ten years and there was no issue but when members of Murgaocha Raja withdrew their support to the politician, the shed was suddenly termed as illegal," said Chodankar.
Chodankar said the fight began with a case in the high court, which passed an order to demolish the shed terming it as illegal. The case then went to Supreme Court and the apex court also upheld the high court's order to demolish the shed.
Outgoing councillor Nilesh Navelkar appealed to the government not to demolish the shed because it could hurt religious sentiments.
"We have had many MLAs and ministers, including former chief minister late Manohar Parrikar, visiting the shed for various functions and Sarvajanik Ganesh Festival."
"We have already met a few political leaders and appealed to Mormugao Port Trust (MPT) not to demolish the shed," said Navelkar.
Former Mormugao Municipal Council chairperson Shekhar Khadapkar said MPT could always get this shed built for them under its CSR initiative.
"While many other adjoining structures have been regularised, this shed has been targeted. The MPT was willing to give the land but is being pressurized against the decision," said Khadapkar.