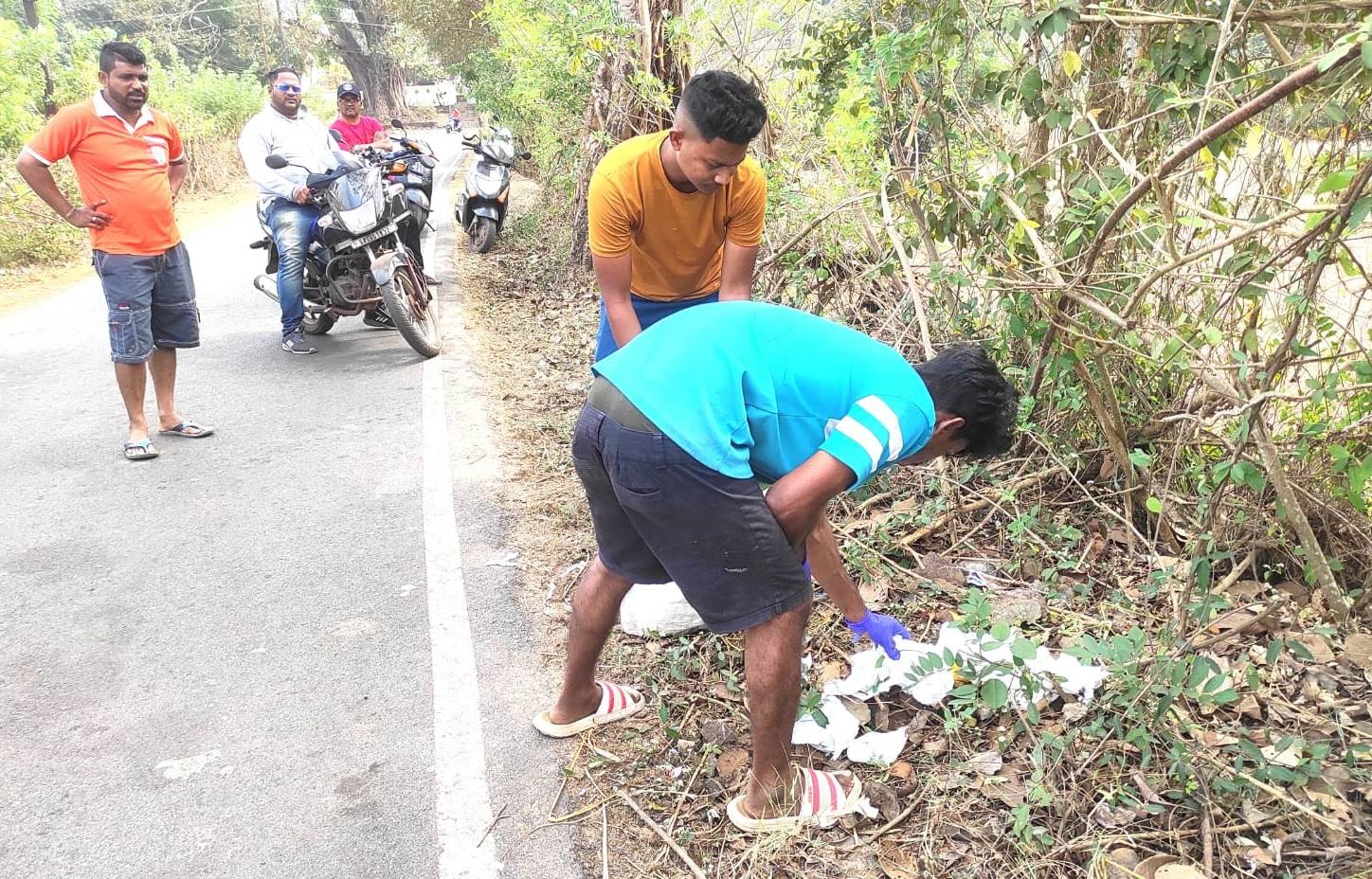 MARGAO
Youth from Pedda-Benaulim allegedly caught two persons red-handed while they were disposing of chicken waste along the roadside late last night.
Around 15 youngsters, who maintained vigil along the Pedda road, succeeded in their mission as the duo came late last night to dispose of the chicken waste. The duo were made to clear the entire waste from the roadside as a punishment for disposing of wet waste in an unauthorized manner.
Benaulim sarpanch Xavier Fernandes and two other panchas, who came to the site, assured that the duo will be fined as per the rules in force.
Roque Fernandes told the media on Tuesday that youngsters from Pedda were maintaining vigil along the main road as there was no let up in the disposal of the chicken waste along the roadside. "Through the CCTV footage, we had zeroed in on the duo for being responsible for the waste disposal. When the duo came again last night, they were caught red-handed by the youngsters," he said.
He pointed out that since the duo have confessed their involvement in waste disposal, they were told to clear the Pedda road of the waste. "Our inquiries have revealed that the duo were first collecting waste from Colva and then at a restaurant at Benaulim, before heading to the Pedda road to dispose of the same alongside the road," he said.
This is not the first time that youngsters from Pedda-Benaulim have caught miscreants red-handed involved in waste dumping along the road. Those caught in the act have been made to clean up the roadsides of all waste as a punishment and deterrent.
Pollution control board asks MMC for report on action to stop disposal
MARGAO:
As the menace of chicken waste continues unabated along the eastern bypass, between Arlem Circle and Nuvem traffic junction, the Goa State Pollution Control Board (GSPCB) has asked the Margao Municipal Council to file a report on the steps taken to stop waste dumping along the roadside.
The Margao Municipal Council, however, is believed to have taken the stand that the roadside, where the waste is being dumped, does not fall in the jurisdiction of the Margao civic body.
Sources pointed out that the GSPCB had asked for an action taken report from the Margao Municipal Council in view of the complaint made by Curtorim MLA Aleixo Reginadlo Lourenco over the continuing dumping of chicken and other waste along the eastern bypass.
The chicken waste dumping had posed a nuisance to the farmers engaged in farming activity in the adjoining fields, besides posing a nuisance to the travellers with the area emitting a foul odour.