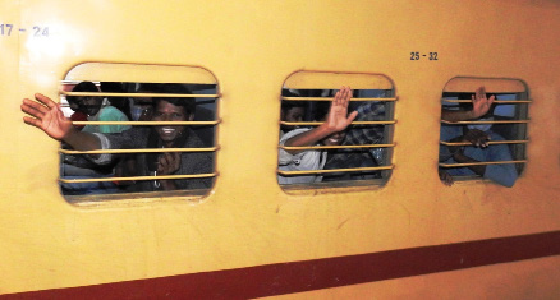 the goan I network
MARGAO
Thousands of migrants from Uttar Pradesh descended outside the Margao railway station, hoping to catch the trains to their native state when the available slots were only 2928.
The first train to the North Indian state departed from Margao to Gorakhpur, the home constituency of Uttar Pradesh Chief Minister Adityanath Yogi on Tuesday evening.
The first train to Gorakhpur and Faizabad left the Margao railway station at 7 pm with 1464 migrants. The second train carrying 1464 migrants was scheduled to depart at around 11 pm, which will ferry the passengers to Maharajgang, Sant Kabir and Kushinagar.
The police had a tough time regulating the entry of the UP migrants at the Margao railway station complex since the first train was restricted only to the migrants hailing from Gorakhpur and Faizabad.
Special Additional Collector, North Shashank Tripathy, IAS, was personally monitoring the situation at the entry gate to ensure only those from Gorakhpur and Faizabad board the first train. He did not allow people from other parts to save them the trouble of getting stuck in other districts once they land in the huge state.
The police and the administration made announcements insisting that only migrants from Gorakhpur and Faizabab board the train. Serpentine queues of migrants extending till the ESI Hospital could be spotted on both sides of the station complex.
"The police are finding it tough to control the thousands of migrants who throng the railway station when there are limited seats on the trains," remarked a senior police official.
A police team headed by DySP Serafino Dias and other senior police officers were seen guiding the UP migrants, who were left behind after the Gorakhpur train left the Margao railway station, towards the ESI hospital as a precautionary measure.
The second train to Maharajgang, Sant Kabir and Kushinagar was scheduled to leave Margao railway station at around 11 pm.