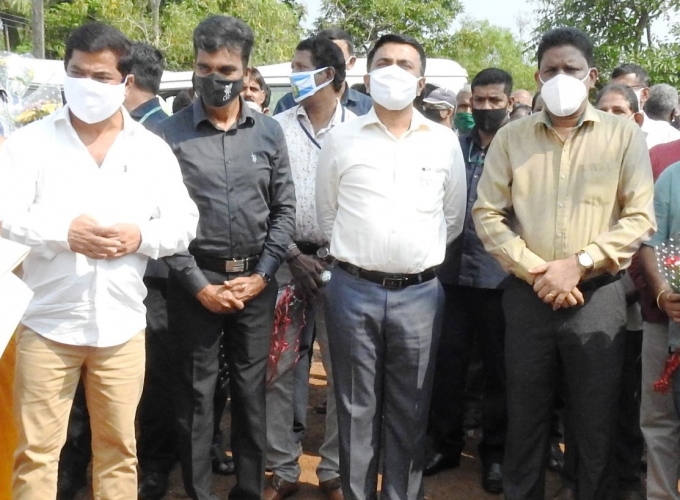 MARGAO
Adopting a tough posture over the London protests to save Mollem, Chief Minister Pramod Sawant on Friday openly batted for the double tracking, power transmission lines and national highway expansion projects, only saying the double tracking project is not for coal transportation.
Claiming that certain forces have come together to oppose the government from London, a visibly upset Chief Minister urged the people of Goa to wake up and remain alert, apparently to face these forces, a move perceived as the government's attempt to launch a counter-offensive in support of the projects.
Sawant, however, said his doors are open discussions and negotiations for the protestors, saying his government is ready to listen to every issue raised by the people and find a solution.
The Chief Minister further batted for the IIT project in Melauli, wondering why the people are objecting to a project that is expected to provide around 1000-2000 jobs for the local youth.
Flanked by Dy. Chief Minister Chandrakant Kavlekar, Salcete lone Minister Filipe Neri Rodrigues and Cuncolim MLA Clafacio Dias, the Chief Minister told the media in Cuncolim on Friday morning that the government is planning development for the next 25 years, be it the transmission line project or the national highway expansion. "We have to plan for the next 20-25 years. The national highway project will be required by the people 20 years from now. But, some forces are opposing the government from London. The people of Goa should be alert and wake up. We are planning development of the state for the next 25 years", he asserted.
Strongly batting for the electric transmission project, the Chief Minister said the project will take care of the power needs of the industry and domestic power for the next 10 years. "These people sleep in their homes by switching on four air conditioners. If we don't get the project, the industries will not work and nor the ACs", he asserted.
Touching upon the controversial double tracking project, the Chief Minster said the government is not executing the double tracking project to transport coal, while inviting the people agitating on the issue for discussions with the government.
Slamming that certain political forces cannot digest the truth that his government is working for the common man, irrespective of caste and religion, the Chief Minister said it has become a habit for many people to protest on various issues with elections round the corner. "They have no issues or agenda for development. Despite the Covid-19 pandemic, my government has worked for all sections of society, irrespective of caste and creed. But, some people are unhappy and they are raising issues with elections in mind", he asserted.
On the controversial IIT project in Melauli, the Chief Minister said he personally went to the village to listen to the villagers, He, however, wondered why there should be opposition to the project when the IIT will create around 1000-2000 jobs for the local.