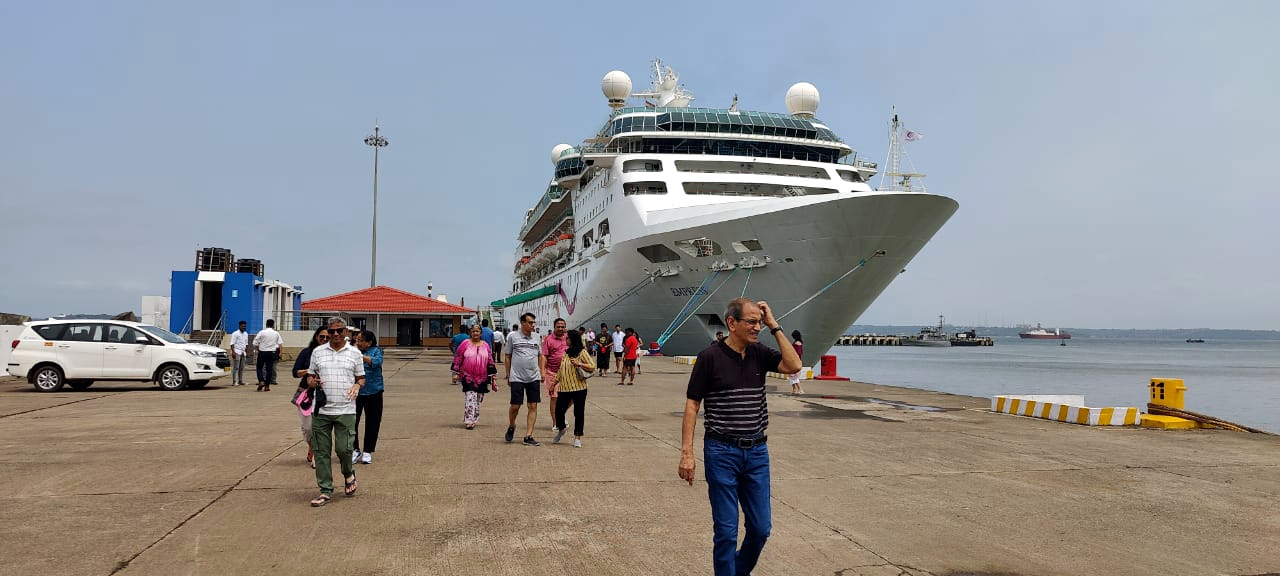 VASCO
The cruise tourism season in the State began with the arrival of the domestic cruise ship 'Cordelia Empress' at the Mormugao Port Authority (MPA) on Friday morning.
The Cordelia Empress brought in 785 passengers and 360 crew members on its maiden journey to Goa from Mumbai.
Speaking to reporters, MPA Chairman Venkata Ramana Akkaraju said 52 ships have been lined up for the season, with 36 domestic and 16 international cruise ships expected to bring in a lot of revenue to the State.
"It will also boost business activity which would benefit local people at large," said Akkaraju.
"This is a very good beginning after a long gap amid the Covid pandemic and this cruise is a day liner which has arrived from Mumbai in the morning and will leave back to Mumbai in the evening."
"As of now, the ship has got around 800 passengers and 360-odd crew members, with around 400 passengers disembarking at Goa, which will bring fresh business to Goa. We expect more visits from this cruise liner."
"We will get international cruise ships by November which will bring in 3,000 passengers. We want to give them a good experience so that they keep coming and act as future ambassadors for Goa, which will help revenue and also benefit local people and artisans," said Akkaraju.
He also informed that works on international cruise terminal and top-class fishing harbour were in progress.
"We have already started work on the international cruise terminal and we expect good progress by the end of this financial year. By June next year, the international cruise terminal will be in place at the cost of Rs 103 crore. This will give a world-class experience to international passengers and we will also try and use it for domestic cruises, as and when it is free," said Akkaraju.
"We have already planned a Rs 450 crore infrastructure for Vasco, by which we will develop state-of-the-art fishing harbour, besides additional berths for Navy and Coast Guard ships. We will start infusing funds once the issue of resettlement is completed, so that Goa will have a fishing harbour of global standards," said Akkaraju.