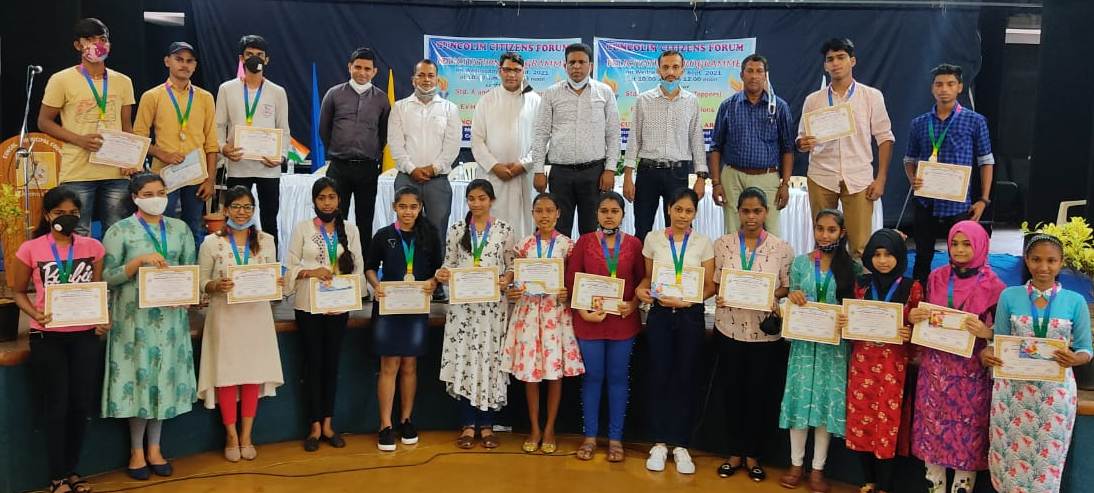 Cuncolim MLA Clafacio Dias seen with the SSC students who were felicitated by the Cuncolim Citizens Forum in Cuncolim on Wednesday. Santosh Mirajkar
MARGAO: Cuncolim MLA Clafacio Dias on Wednesday announced that the long-pending demands of the people of Cuncolim Municipal area to have a fire station and a 24x7 Emergency Care centre will become a reality within a fortnight.
Speaking at a programme organized by the Cuncolim Citizens Forum to felicitate the meritorious SSC students on Wednesday, the Cuncolim MLA further promised to extend all possible support and assistance to the students to pursue higher studies.
He said the proposed fire station and the 24x7 Emergency Care Centre at the Cuncolim Municipal area will become a reality within the next 15 days. "I had promised the people of Cuncolim during my election that he would try to realise the long pending demand of a fire station and a health facility in the Municipal area. Both these two demands will be realized within a fortnight", he said.
Clafacio further said he has brought a turnaround in the power scenario in the Cuncolim Municipal area in the last five years. "Even when I was in the opposition, I had got the project to tide over the low voltage situation in the area", he said.
Saying there should not be any politics in the field of education, the Cuncolim MLA said "as an MLA of Cuncolim constituency, I will extend my help and support to the students who need assistance to pursue education".
He complimented the Cuncolim Citizens Forum and the organizers Mario Moraes for the initiative to felicitate the students.