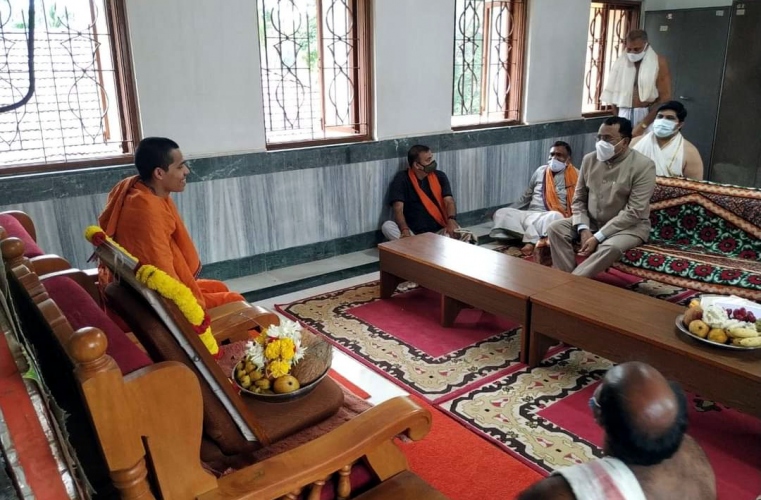 Photo Credits: Kathy Fernandes
CANACONA
Governor P S Sreedharan Pillai on Wednesday paid tributes to the samadhi of Srimad Vidhyadhiraj Teerth Sripad Vader Swamiji, the spiritual and administrative head of Shree Gokarn Partagal Jeevottam Math who attained Mahanirvana on July 19.
During a condolence visit to Shree Gokarn Partagal Jeevottam Math in Partagal-Canacona, Pillai offered condolences to Vidhyadheesh Theerth, the disciple and successor of Srimad Vidhyadhiraj Teerth Sripad Vader Swamiji, who was the 23rd spiritual leader and the longest serving (48 years) in the 550-year old Math.
The governor said the State had lost a true sanyasi in every sense of the term and was an irreparable loss.
"Swamiji tirelessly worked for the spiritual upliftment and served humanity through education, healthcare and service to the needy. His passing leaves behind a deep spiritual void," said Governor Pillai.
The governor also sought the blessings of the Gods Ramdev and Vir Vitthal in the Math Complex.
The Partagal Math is one of the three religious orders of the Gowd Saraswat Brahmin (GSB) community.
The Shree Gokarn Partagal Jeevottam Math Secretary Anil Pai has stated that the installation ceremony of Vidhyadheesh Theerth as the 24th Peetadhipati of the Math is likely to take place on July 30, after the 12-days mourning period.
A young engineering student before his religious calling, Vidhyadheesh Theerth was inducted as a Sheeshya (Disciple) of the Partagal Jivottam Math in February 2017.
Pai also informed that a meeting of the Math committee will be convened on Sunday to discuss and decide the installation ceremony.
"Vidhyadheesh Theerth will be Guru and overall incharge of the Math. We are trying to fill the gap with minimum delay and the scheduled Chaturmaas of Partagal Jeevottam Math, scheduled for July 28 this, will take place on August 8," Pai said.