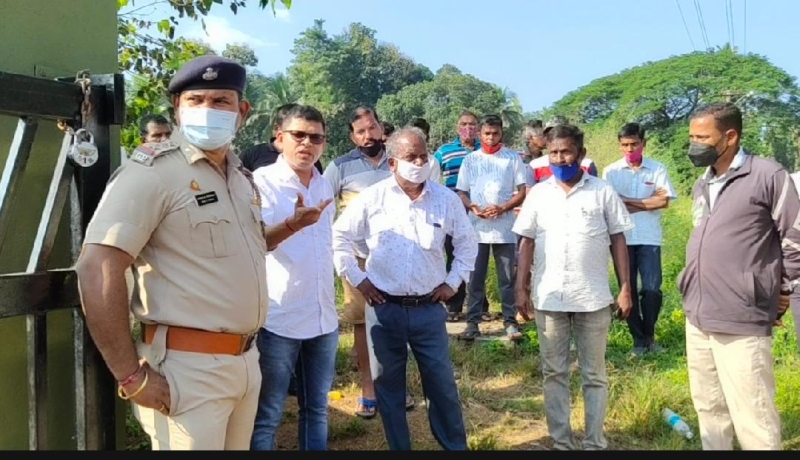 SANGUEM
High voltage drama was witnessed at the SAG ground at Molcornem Quepem a few minutes before the conduct of matches for the CM Trophy.
On being informed that the matches for CM Trophy which is underway all over Goa will be played at the newly constructed ground at Molcornem, Sanguem MLA Prasad Gaonkar alongwith his supporters and other panchayat members made his presence felt at the venue and put a lock to the main gate of the sports complex.
Soon the men in uniform appeared at the site and appealed Gaonkar to remove the lock for the organisers to conduct the games.
Gaonkar however remained firm with his decision and made it clear to the authorities that no games of CM Trophy will be permitted at the venue as the ground is yet to be inaugurated and also remains incomplete in some aspects.
The SAG has not completed with the project work and neither the charge of the ground is handed over to the panchayat. In such an event, permitting games without the completion work of the ground will cause damage to the ground. The SAG should make it clear as to who shall be responsible for the damages if the games are played at the ground without the work being completed.
Gaonkar informed that since last four years he alongwith the panchayat members of Molcornem Village Panchayat are making frequent trips requesting the authorities to complete the incomplete work of the ground but to no avail.
The SAG has even send a written note to the panchayat not to permit anyone to play on the ground as it will damage the lawn and other things at the newly constructed ground.
The organisers having left with no other option however held the matches at a nearby open ground. However, Gaonkar removed the lock put on the gate a few hours later.