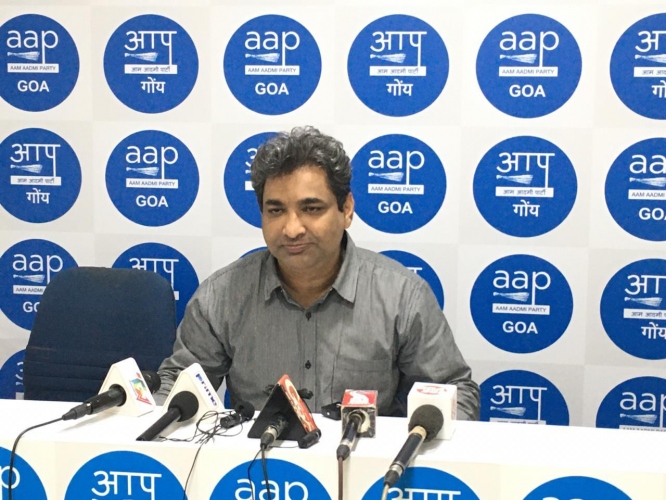 PANAJI
Aam Aadmi Party on Sunday while repeating their charge against Chief Minister Pramod Sawant of being a liar asked him to be honest with Goans and also questioned the autonomy and independence of watchdog organizations like the Goa State Pollution Control Board.
"How can a person who was responsible for increasing coal handling in the first place now be asking for its reduction," asked AAP Goa Convener Rahul Mhambre, and pointed out that official documents of the government undertaking MPT expose how the Minister for Shipping increased coal handling at the port.
The Goa State Pollution Control Board at its meeting held on December 11, 2019, had rejected the plea made by Jindal and Adani to increase the coal handling facilities at berth Nos 6 and 7 leased to them from the then existing 4.8 MMTPA to 5.5 and 5.2 MMTPA respectively.
However, at the next meeting held on February 28 2020, the Goa State Pollution Control Board approved the application and also permitted 2 MMTPA coal handling at the mooring dolphins. How this clearance came about is surprising, said Rahul. Referring to minutes of the Board of Trustees meeting of MPT he pointed out that it was the Minister for Shipping who prevailed upon the GSPCB to give the clearance.
MPT Chairman Dr E Ramesh Kumar as per the minutes states that the Minister for Shipping prevailed upon the pollution control board to give the permission to increase coal handling at the two berths due to which MPT which was running at a loss can now look forward to making some profit.
"The GSPCB is supposed to be an environmental watchdog that is supposed to preserve and protect Goa's environment, but here is a case where this very watchdog organization has been coerced by the Minister for Shipping to give a nod to projects that are detrimental to the environment," he said.
Rahul questioned the autonomy and independence of GSPCB and demanded that the license to Adani and Jindal to increase their coal handling capacities be re-examined and revoked immediately.
The CM is only fooling the people by saying that the Minister for Shipping will reduce the coal handling capacity at MPT and this is very evident as till now the date when the shipping minister is coming to Goa has not been announced, he said.