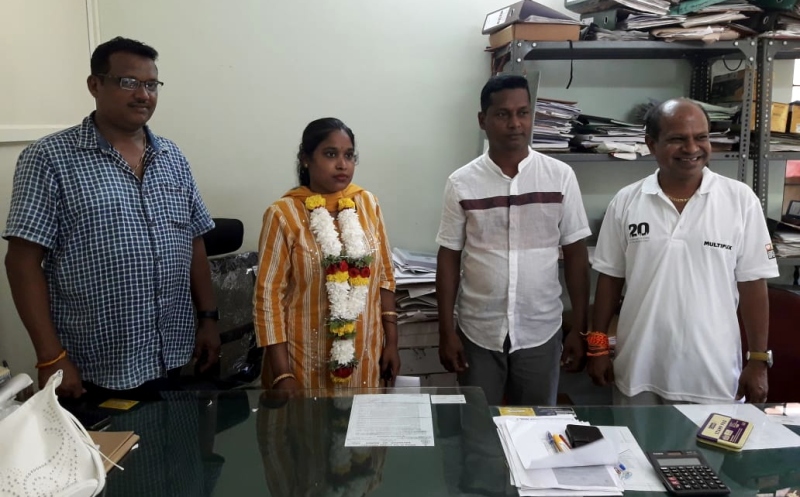 Photo Credits: Manuel Vaz
OLD GOA
St Andre MLA Francisco Silveira's camp finally had the last laugh as its candidate, Nutan Shirodkar, was elected unopposed as Siridao deputy sarpanch at an election meeting held in the panchayat on Wednesday.
Nutan was the lone candidate to file nomination for the deputy's post and she was supported by panchas Jagdish Gauns, Kusha Palkar and Vasu Kunkolienkar.
The opposition panchas, Antonio Afonso, Melanie D'Souza and Camilo Marques, remained absent.
BDO representative Swapnil Nageshkar was the presiding officer and he was assisted in the election process by panchayat secretary Mahesh Naik.
It may be recalled that Siridao panchayat was without a sarpanch and a deputy sarpanch after the ouster of Melanie D'Souza as deputy sarpanch on October 5.
Earlier, Jagdish Gauns was ousted as sarpanch after the High Court had upheld the no-confidence motion passed against him by four panchas, which included Vasu Kunkolienkar.
And in their fight for justice, the four panchas were supported by BJP's Ramrao Wagh, Congress' Tony Fernandes and Goa Forward's Jagdish Bhobe.
But, Kunkolienkar switched sides and with the support of Gauns, Palkar and Shirodkar, moved a no-confidence motion against deputy sarpanch D'Souza leading to her ouster.
When contacted, MLA Silveira expressed happiness over BJP taking back control of Siridao panchayat.
"Panch Vasu Kunkolienkar returned to our camp and we were able to get back control of the panchayat," Silveira added.