Save Madel, Rawanfond fields: Task cut out for politicos to get acquired land reverted to agriculture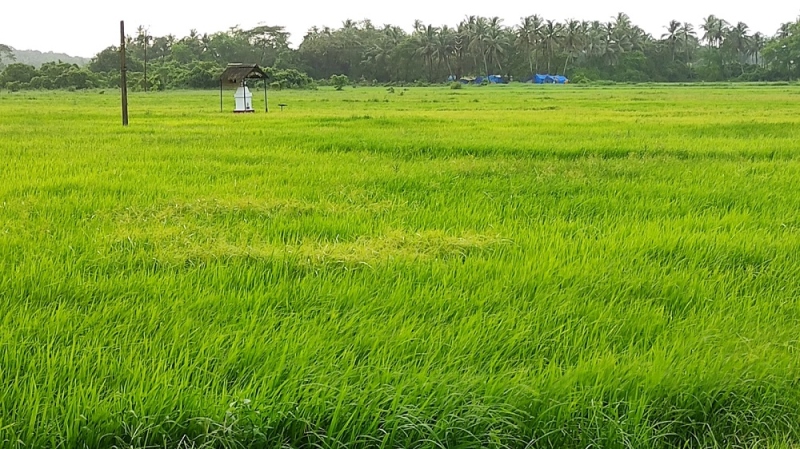 MARGAO
Will the Congress, Goa Forward and new entrant, the Trinamool Congress have any agenda in their election manifesto to revert back the status of the acquired fields to agriculture at Margao and Fatorda by notifying the acquired land as a green zone to ensure these green patches in the midst of a concrete jungle in the commercial capital act as green lungs of the city?
Leaders of these three political parties, which had made a common cause with the beleaguered farmers of Madel-Fatorda and Margao-Rawanfond, waging an over a decade and half old sustained battle for the restoration of the acquired fields back to agriculture, have a task cut out -- what stand will they adopt on the farmers' demand and how will they go about in restoring the fields to agriculture zone.
These political parties, which had joined the bandwagon against the three linear projects and lent their support to the Save Mollem campaign, indeed have a task cut out to retain the agricultural fields located right in their backyard as green zones.
Take note, former Minister Avertano Furtado, Congress-turned-TMC leader MP Luizinho Faleiro, (both representing Navelim) Goa Forward chief Vijai Sardesai, Fatorda TMC leader Ethel Lobo (Fatorda) and not to mention Opposition Leader Digambar Kamat (Margao) had at one time or other over a decade have made a common cause with the farmers.
The ground reality, however, remains unchanged. On the contrary, a portion of the Madel fields in Fatorda have now been notified in the Margao ODP as special commercial zone for a tech hub during the last five years. And, the Goa State Urban Development Agency (GSUDA) has secured the fields with barbed wire fencing, located opposite the Margao railway station, in neighbouring Margao, sending clear indications that the acquired fields are proposed to be used for a purpose other than agriculture.
The Congress, in particular, needs to come clear on the party's stand on the acquired fields. For, sources said these agricultural fields were proposed for acquisition by the then BJP government a decade and half when Digambar Kamat had presided over the portfolio of the Urban Development Ministry and GSUDA as its Chairman during the Manohar Parrikar regime.
The Goa Forward too has come under the lens of the farmers. Reason: The zone of a portion of the acquired fields at Madel was changed to special commercial zone to set up a tech hub when farmers have been demanding return of their fields for cultivation.
In fact, farmers in private say the Congress president Girish Chodankar and party leaders in-charge of the party manifesto Ramakant Khalap and Elvis Gomes should outline the party's stand on the status of the fields before the polls so that the decision is binding on party leaders.
Says a farmer: "We are tired of the assurances handed out by the leaders of Margao, Fatorda and Navelim to restore the fields of our ancestors back to us. The time has now come for these leaders and their political parties to make their stand clear and in their manifestos. Let these fields remain forever as agriculture fields and be the lungs of the city amidst the concrete jungle."